Vishay Intertechnology announced a new IHLP low-profile, high-current inductor in the 8787 case size with high rated current from 7 A to 100 A and a high operating temperature to +155 °C. The Vishay Dale IHLP-8787MZ-51 offers high efficiency with max. DCR from 0.67 mΩ to 39.4 mΩ and a wide range of inductance values from 0.47 µH to 100 µH.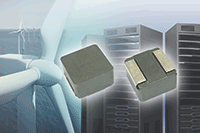 The IHLP-8787MZ-51 device released today serves as a high-performing, space- and power-saving solution for DC / DC converter applications in servers; low-profile, high-current power supplies and point of load (POL) converters; distributed power systems; solar inverters; and industrial lighting.
The new inductor handles high transient current spikes without hard saturation. Packaged in an RoHS-compliant, 100% lead (Pb)-free shielded, composite construction that reduces buzz noise to ultra-low levels, the device is specified for an operating temperature range of -55 °C to +155 °C, with high resistance to thermal shock, moisture, mechanical shock, and vibration. The inductor is halogen-free and Vishay Green.