NXP Semiconductors announced a new series of six transient voltage suppressor (TVS) diodes housed in the small, leadless plastic package DFN2020-3 (2 ×2 mm) with a height of only 0.62 mm. The new PTVSxU1UPA product series offers a 300 W peak pulse power rating (10/1000µs) and reverse stand-off voltages from 7.5 to 26 V.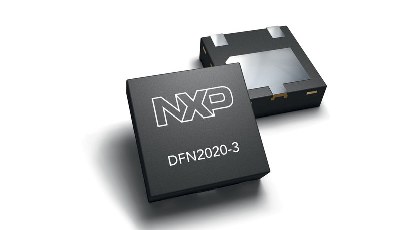 The new AEC-Q101 qualified PTVSxU1UPA series is ideally suited to protect voltage-sensitive components against transient voltage in various applications, such as the charger port in mobile devices.
Surge pulses from the power supply, for example via a car charger, are a severe threat for the charger port VBUS line of smart phones and other portables. Standard ESD protection devices are no longer sufficient to protect application circuits from damage, and as a result, devices with higher surge robustness are required.
The low leakage current of only 1 nA reduces the power consumption and helps extending the battery lifetime. Housed in a small leadless DFN2020 package it is ideally suited to products such as mobile phones and notebooks where space is a constraint.
This discrete solution offers superior electrical performance, a higher PCB design flexibility and easier routing than the array of integrated solutions currently available.