Diodes Incorporated introduced a synchronous buck converter designed to optimize transient response in low-voltage TV and monitor applications. Based on an adaptive constant on-time control algorithm, the 5 A-rated AP65550 quickly reacts to rapid changes in load conditions, guaranteeing a minimal drop in output voltage.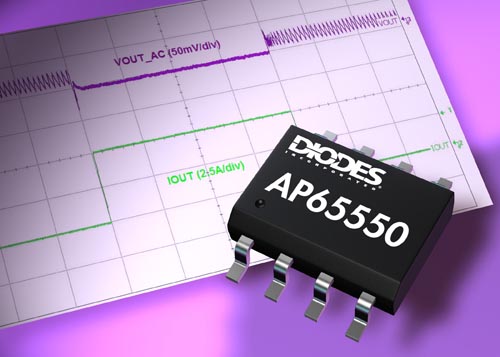 Managing wide variations in input/output voltage ratios, the device control algorithm also helps minimize external component count and enables the use of both low and ultra-low equivalent series resistance capacitors. The converter is available in the SO-8EP package and suitable for 5 V, 9 V and 12 V bus systems, due to its stable 4.5 V to 18 V operating voltage range.
The buck converter's automatic light-load efficiency-improvement feature ensures seamless transition between continuous conduction mode at higher loads and discontinuous conduction mode at lighter loads. This helps designers comply with low power consumption regulations and achieves operating efficiencies as high as 92%.
To protect downstream components from damage and premature aging, the converter integrates a complete suite of protection features, including under-voltage lockout, thermal shutdown, over-current protection and programmable soft-start.