NXP Semiconductors introduced the first 10 A, 45 V Schottky barrier rectifiers PMEG45U10EPD and PMEG45A10EPD in the new CFP15 (SOT1289) package. This new Clip FlatPower Package (designed for IF max up to 15 A) has very compact dimensions with a body size of 4.3 mm × 5.8 mm and a height of only 0.8 mm, making it thinner than the pin-compatible PowerDI5 and SMPC (TO-277A) rectifier package available on the market today. This small form factor combined with a high electrical performance make PMEG45U10EPD and PMEG45A10EPD the optimal choice for next generation smartphone and tablet power adapters. Applications include SMPS / DC-to-DC converters, polarity protection and high-speed switching.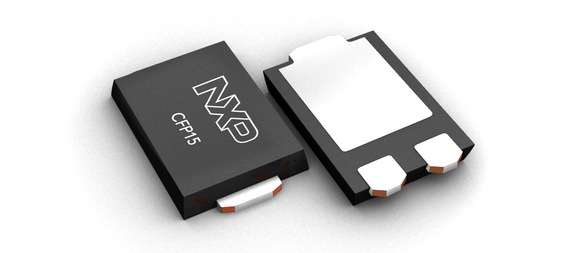 The new 10 A Schottky rectifiers provide a low forward voltage drop of only 350 mV at 10 A forward current and 85°C junction temperature, thereby reaching increased efficiency levels and high output power ratings needed for fast charging cycles. With high peak current capabilities and a guaranteed breakdown voltage of more than 45 V, the new devices meet the safety demands of up to 15 W chargers with 5 V output voltage. PMEG45A10EPD is optimized for low VF and low IR and boosts a capacitance of only 900pF (typ.) at 1 V. PMEG45U10EPD is optimized for lowest VF and has a capacitance rating of 1200 pF (typ.) at 1 V.
The CFP15 package design has a solid clip and exposed heat sink to help reduce the package's thermal resistance and optimise the transfer of heat into the ambient environment; allowing for smaller and thinner charger designs. The front sides of the package leads are also tin-plated and 100% solderable, enabling optical solder inspection.