Vishay Intertechnology announced that it has extended its RCL e3 series of long side termination thick film chip resistors with new devices in the 0406 and 1225 case sizes. For automotive electronic circuits and general purpose applications, the RCL0406 e3 and RCL1225 e3 offer enhanced thermo cycling performance and provide increased power ratings to 0.25 W and 2.0 W, respectively.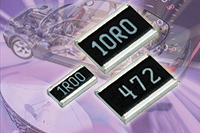 Qualified to AEC-Q200 Rev. C, RCL e3 resistors feature wide terminals that enable high power dissipation. Their small 0406, 0612, 1218, and 1225 case sizes save space on densely packed PCBs and allow a higher number of temperature cycles, thus improving solder-joint reliability. The devices offer tolerances of 1 % and 5 %, TCR of ± 100 ppm/K and ± 200 ppm/K, and a resistance range from 1 Ω to 2.2 MΩ.
RCL e3 resistors resistors feature a protective overglaze and pure tin solder contacts on a nickel barrier layer for compatibility with lead (Pb)-free and lead-containing soldering processes. The devices are compliant to RoHS directive 2011/65/EU and halogen-free according to the JEDEC JS709A definition.
Device Specification Table:
Part #

Resistance range

Resistance tolerance

TCR

Rated dissipation

Operating voltage

1 Ω - 1 MΩ

± 1 %

± 100 ppm/K

0.25 W

50 V

± 5 %

± 200 ppm/K

1 Ω - 1 MΩ

± 1 %

± 100 ppm/K

0.5 W

75 V

± 5 %

± 200 ppm/K

1 Ω − 2.2 MΩ

± 1 %

± 100 ppm/K

1.0 W

200 V

± 5 %

± 200 ppm/K

1 Ω - 1 MΩ

± 1 %

± 100 ppm/K

2.0 W

200 V

± 5 %

± 200 ppm/K