Vishay Intertechnology today announced that it has enhanced its PAT series of AEC-Q200-qualified precision automotive thin film chip resistors with an extended resistance range from 2.5 Ω to 3 MΩ. Designed to meet automotive industry requirements for temperature and humidity, while offering consistent repeatability and stable performance, the Vishay Dale Thin Film devices feature a low standard TCR of ± 25 ppm/°C and laser-trimmed tolerances down to ± 0.1%.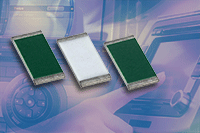 Featuring a tantalum nitride resistor film on a high-purity alumina substrate, the PAT resistors offer load-life stability of < 0.05% at +70 °C for 1000 h and an ESD rating of 2 kV. Ideal for the low-noise single-signal processing required to compensate for low offset and temperature drift in high-temperature applications, the devices are optimized for hybrid / electronic controls, energy management, measurement, sensor scales, and stable fixed resistor applications in automotive electronics.
Offered with wraparound terminations in eight case sizes from 0402 to 2512, the PAT series features very low noise of < -35 dB and low voltage coefficients of < 0.1 ppm/V. Power ratings for the devices range from 50 mW to 1 W, and voltage ratings are from 75 V to 200 V over an operating temperature range of −55 °C to +155 °C.
The PAT devices are resistant to moisture at +85 °C, 85 % relative humidity, and 10 % rated power per MIL-STD-202, method 202; flame-resistant in accordance to UL 94 V-0; and undergo a 100 % visual inspection per MIL-PRF-55342. Featuring lead (Pb)-free terminations, the devices are RoHS-compliant, halogen-free, and Vishay GREEN.
Device Specification Table:
Case size

Power
rating (mW)

Working
voltage (V)

Resistance
range (Ω)

0402

50

75

20 to 51 k

0603

150

75

2.5 to 130 k

0805

200

100

10 to 301 k

1206

400

200

10 to 1 M

1505

400

150

10 to 1 M

2208

750

150

10 to 1.75 M

2010

800

200

10 to 2 M

2512

1000

200

10 to 3 M