Diodes Incorporated introduced the AP22802. This single-channel load switch ensures extensive protection for interconnects that are subject to the risk of surges and short circuits. The AP22802 quickly clamps output current to a safe level upon fault sensing. This highly integrated device is optimized for regular USB and other hot-swap applications and is available in the small form-factor SOT25 package, offering a footprint of only 9 mm2.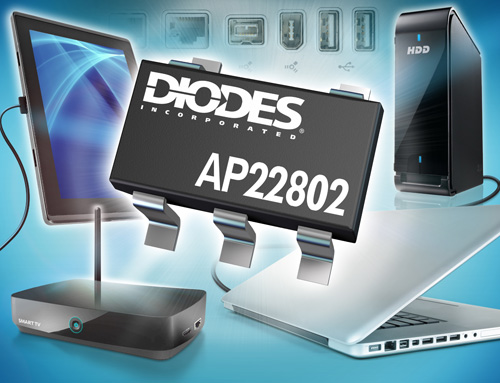 The AP22802 sets a typical current limit of 2.7 A to guard against overloads and operates over an input voltage range of 2.7 V to 5.5 V. For added flexibility, this load switch offers circuit designers the choice of either active-low and active-high enable inputs.
The device's under-voltage lockout function ensures that the internal power switch remains off until input power level has reached a minimum of 2 V, even if the switch is enabled, which is useful for the design of single-channel, hot-insert systems.
The AP22802's automatic discharge function and internal N-MOS power switch combine to provide a dependable resistive discharge path. This enables the device to safely handle residual output voltage when the switch is disabled and no external resistance is present at the output.
Other protection features of the load switch include over-temperature detection with auto-recovery, reverse current blocking and controlled rise time. An open- drain flag output is also included, with an built-in 6 ms deglitch to prevent false reporting of over-current and over-temperature conditions.