International Rectifier introduced the highly integrated IRS29831 LEDrivIRTM control IC optimized for single stage Flyback and Buck-Boost topologies used in LED drivers including LED bulb replacement, LED tube lighting and down lights.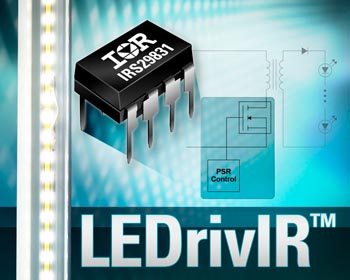 Employing accurate primary side power regulation, the IRS29831 integrates an LED driver control IC and power MOSFET utilizing 700 V technology and features high-voltage start up to offer a simple cost-effective single stage solution while maintaining a high power factor and low Total Harmonic Distortion (THD) for improved efficiency.
IRS29831-based LED driver circuits also offer smooth, flicker-free dimming with triac based dimmers. The device can also operate over a wide input voltage range. Protection features include hiccup mode open-load/over-voltage protection, cycle-by-cycle primary over current limiting, and output short circuit protection.
The IRS29831 also features critical-conduction mode operation, with discontinuous and burst modes at light load as well as the ability to allow users to configure isolated designs without an opto-coupler. Available in an 8-pin DIP package, the IRS29831 has a fast startup, low quiescent current, ESD protection and noise immunity.
Specifications
Topology: Flyback
Drain Source Voltage: 700 V
Max Drain Current: 0.65 A
Max Converter Power: 25 W
Availability and Pricing
Pricing for the IRS29831 begins at US $1.25 each in quantities of 10,000-units. Production quantities are available immediately. The devices are lead free and RoHS compliant. Prices are subject to change.