Vishay Intertechnology introduced a new miniature immersion sensor for fluid temperature sensing from its Vishay BCcomponents Non-Linear Resistor division. Offering a stainless steel housing for permanent contact with fluids, the Vishay BCcomponents NTCAIMME3 provides a very fast response time of 1.5 s, low thermal gradient of < 0.02 K/K, and high base temperature accuracy of ± 1.5 °C.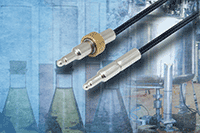 The device released today consists of an NTC thermistor chip mounted in its stainless steel housing with twin PVC-insulated AWG #30 lead wire connections. The sensor features a small tip with a 2.0 mm diameter, which allows for fast, accurate temperature sensing with little heat loss through the connecting wires. The device is available with a brass collar for sealed mounting, or without a collar for custom mounting.

For designers, the NTCAIMME3 provides a fast response to fluid temperature changes in a wide range of applications, including liquid processing equipment, water boilers, chiller systems, water and oil tanks, consumer and industrial appliances, medical fluid circulators, and solar heating systems.

The RoHS-compliant sensor offers resistance at +25 °C (R25) of 10 kΩ, with tolerance of ± 3 %, and beta (B25/85) of 3984 K, with tolerance of ± 0.5 %.The device features maximum power dissipation of 100 mW and operates over a temperature range of -25 °C to +105 °C.