Vishay Intertechnology introduced a new series of epoxy-coated mini sensors optimized for automotive temperature probes. Built on advanced NTC thermistor technology, AEC-Q200-qualified NTCLE213E3... sensors deliver fast response times lower than 5 s in air, thanks to a small body diameter of < 2.5 mm. They also offer a rugged design to withstand thermal shocks.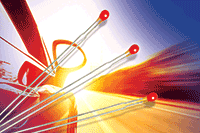 The devices released today will provide fast and accurate temperature sensing for automotive engine coolant temperature (ECT) and temperature manifold absolute pressure (TMAP) sensors, HVAC systems, and consumer, commercial, and industrial appliances. The sensors are available in bulk (NTCLE213E3...B0) with extra-long 41 mm tinned nickel leads or tape-on-reel (NTCLE213E3...T1) for automatic mounting.
The RoHS-compliant devices offer resistance at +25 °C (R25) from 2.1 kΩ to 100 kΩ, with tolerance down to ± 1%, and beta (B25/85) from 3511 K to 4190 K, with tolerance down to ± 0.5%. The sensors feature maximum power dissipation of 100 mW and operate over a wide temperature range of -55 °C to +150 °C.