Vishay Intertechnology introduced a new stud-mount version of its edgewound power resistor. Providing a convenient drop-in replacement for competing solutions, the EDGS combines a high-reliability design with continuous duty operation up to 85 A and a short-time overload of 10x rated power for five seconds.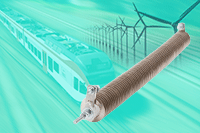 The Vishay Milwaukee EDGS (a product line of Vishay Dale Resistors) features a resistance-alloy ribbon wire that is coiled on edge and supported on specially designed porcelain insulators, which provide proper turn-to-turn spacing and insulation from threaded stud mounts. The device's open-coil construction allows for efficient heat dissipation and easily accommodates overloads and surges. The EDGS's terminals are welded to the resistive wire for a reliable electrical connection.
With current ratings from 17.2 A to 85 A and power ratings from 400 W to 1600 W, the EDGS is optimized for pre-charge, discharge, dynamic braking, load testing, and heater applications in industrial drives, locomotives, wind turbines, and harmonic filters. The edgewound, RoHS-compliant device features a wide resistance range from 0.053 Ω to 5.44 Ω, with tolerance of ± 10%.
Customizable, the industrial power resistor released today can be mounted on brackets supplied by Vishay Milwaukee or in IP-rated enclosures. The device is also available in a universal-mounted version: the EDGU.