Devices Feature Advanced Motor Control, CAN, SENT and Touch Peripherals for Automotive, Appliance and Industrial Applications
Microchip Technology Inc. announced from the SPS IPC Drives Conference in Germany a new family of 16-bit dsPIC33 Digital Signal Controllers (DSCs) with the dsPIC33 "EV" family. This new family provides 5V operation for improved noise immunity and robustness, ideal for devices operating in harsh environments such as appliance and automotive applications. The dsPIC33EV family is the first dsPIC DSC with Error Correcting Code (ECC) Flash for increased reliability and safety. For safety-critical applications, the dsPIC33EV devices also include CRC, Deadman Timer (DMT), and Windowed Watchdog Timer (WWDT) peripherals as well as a backup system oscillator and certified Class B software.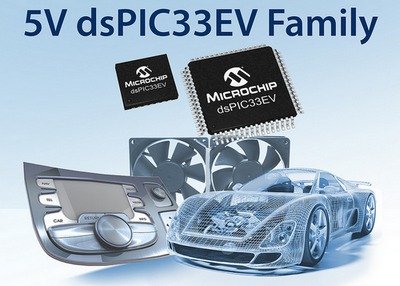 Other key features of this family include up to 6 advanced motor control PWMs, 12-bit ADC, and operational amplifiers, an ideal combination for motor control applications. The dsPIC33EV devices provide easy interface to 5V automotive sensors such as level or flow sensing, with improved noise immunity and enhanced reliability, and provide plenty of performance to execute smart sensor filter algorithms and integrate CAN communication software. For robust automotive touch user interfaces, the higher voltage operation enables more dynamic range and support for larger screen sizes. The dsPIC33EV devices offer up to 150°C operation with AEC-Q100 Grade 0 qualification enabling robust automotive applications that are ideal for under-hood applications.
The advanced peripheral integration features include CAN and SENT peripherals for automotive communications, 70 MIPS performance with DSP acceleration for high-speed control algorithm execution. These features, combined with the lower system cost and high performance of the dsPIC33EV family, make it well suited for a wide range of applications in the appliance (e.g., dryers, refrigerators, dishwashers, range hoods and control panels), industrial (e.g., power tools, sewing machines, actuators, building controls and HVAC systems), automotive markets (e.g., sensors, user interface, fuel pumps, cooling fans and water pumps), among others.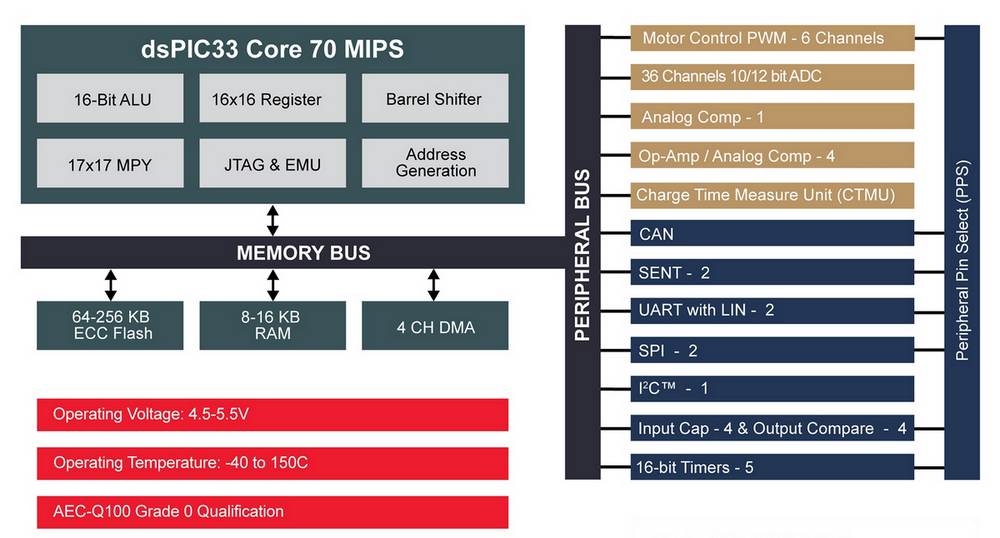 Click to enlarge
Features
Operating Conditions

4.5V to 5.5V, -40ºC to +85ºC, DC to 70 MIPS
4.5V to 5.5V, -40ºC to +125ºC, DC to 60 MIPS
4.5V to 5.5V, -40ºC to +150ºC, DC to 40 MIPS

dsPIC33E Core

Code-Efficient (C and Assembly) Architecture
Two 40-Bit Wide Accumulators
Single-Cycle (MAC/MPY) with Dual Data Fetch
Single-Cycle, Mixed-Sign MUL plus Hardware Divide
32-Bit Multiply Support
Error Code Correction (ECC) for Flash
Added Two Alternate Register Sets for Fast Context Switching

High-Speed PWM

Up to Six Pulse-Width Modulation (PWM) Outputs (three generators)
Primary Master Time Base Inputs allow Time Base Synchronization from Internal/External Sources
Dead Time for Rising and Falling Edges
8.3 ns PWM Resolution at 60 MIPS,
16.6 ns Center-Aligned mode at 60 MIPS
PWM Support for:

DC/DC, AC/DC, inverters, Power Factor Correction (PFC) and lighting
Brushless Direct Current (BLDC), Permanent Magnet Synchronous Motor (PMSM), AC Induction Motor (ACIM), Switched Reluctance Motor (SRM)

Programmable Fault inputs
Flexible trigger configurations for Analog-to-Digital conversion
Independent Time Base
Supports PWM lock, PWM output chopping and dynamic phase shifting

Advanced Analog Features

ADC module:

Configurable as 10-bit, 1.1 Msps with four S&H or 12-bit, 500 ksps with one S&H
Up to 36 analog inputs
Flexible and Independent ADC Trigger Sources

Up to Four Op Amp/Comparators with Direct Connection to the ADC module:
Additional dedicated comparator and 7-bit Digital-to-Analog Converter (DAC)
Programmable references with 128 voltage points
Programmable blanking and filtering
Charge Time Measurement Unit (CTMU):

Supports mTouch capacitive touch sensing
Provides high-resolution time measurement (1 ns)
On-chip temperature measurement
Temperature sensor diode
Multiple sources of edge input triggers

Timers/Output Compare/Input Capture

Nine General Purpose Timers:
Five 16-bit and up to two 32-bit timers/counters, Timer3 can provide ADC trigger
Four Output Capture modules configurable as timers/counters
Four Input Capture modules

Communication Interfaces

Two Enhanced Addressable UART modules (6.25 Mbps):
Support for LIN/J2602 bus support and IrDA
High and low speed (SCI)
Two SPI modules (15 Mbps):
25 Mbps data rate without PPS used
One I2C module (up to 1 Mbaud) with SMBus Support
Two SENT J2716 (Single Edge Nibble Transmission-Transmit/Receive) module for Automotive Applications
One CAN module

Direct Memory Access (DMA)

4-Channel DMA with User-Selectable Priority Arbitration
Universal Asynchronous Receiver/Transmitter (UART), Serial Peripheral Interface (SPI), ADC, Input Capture, Output Compare and Controller Area Network (CAN)

Qualification and Class B Support

AEC-Q100 Rev G (Grade 1: -40ºC to +125ºC)
AEC-Q100 Rev G (Grade 0: -40ºC to +150ºC) Planned
Class B Safety Library, IEC 60730

Class B Fault Handling Support

Backup FRC
Windowed WDT uses LPRC
Windowed Deadman Timer uses System Clock (System Windowed Watchdog Timer)
H/W Clock Monitor Circuit
Oscillator Frequency Monitoring through CTMU
Dedicated PWM Fault Pin
Lockable Clock Configuration
Development Support
The dsPIC33 "EV" family is supported by Microchip's dsPIC33EV 5V CAN-LIN Starter Kit (part # DM330018). For motor control applications, a new dsPIC33EV256GM106 5V Motor Control Plug-In Module (part # MA330036) is available to plug into the Low Voltage Motor Control Development Bundle (part # DV330100).
Pricing & Availability
Devices in the dsPIC33EV family are available in 28 SOIC, 28 QFN, 28 SPDIP, 44 TQFP, 44 QFN, 64 TQFP, and 64 QFN packages, with Flash memory ranging from 64KB to 256KB, including options with and without CAN.