Micrel Inc. introduced the MIC95410 7 A load switch in a compact 1.2 mm × 2.0 mm package. This device can be used for systems requiring power partitioning and has the capability of a controlled power up sequence with ramp control, a feature often needed in applications such as industrial computing, server boards, medical devices, tablets, notebooks, and solid state drives. The MIC95410 is available in volume quantity with 1,000 quantities pricing starting at $0.45.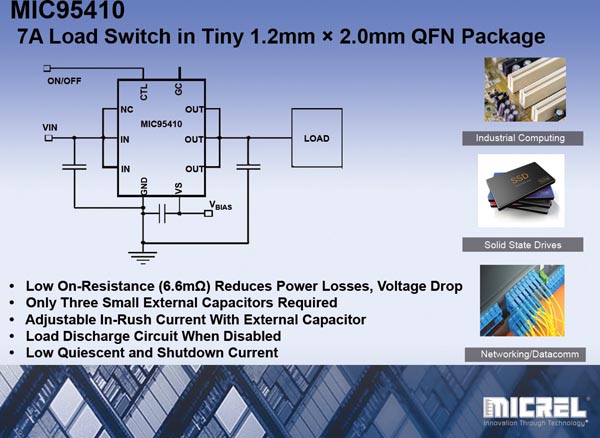 "Load switches are used in a wide variety of applications to selectively shut down idle subsystems or board sections in power-saving modes. This minimizes equipment power consumption wherein reactivation of those subsystems requires a controlled switch turn-on to avoid perturbation on power rails," stated Brian Hedayati, vice president of marketing for high performance linear and power solutions at Micrel. "To address this issue, Micrel has deployed its patented MOSFET technology with advanced packaging technology, and now offers one of the industry's smallest 7 A load switches on the market, reducing more than 40 percent of required board space."
This device operates from a 2.7 V to 9 V bus rail and can switch on a load voltage from 0.5 V to 5.5 V. The extremely low 6.6 mΩ ON resistance of the integrated FET minimizes power dissipation and reduces voltage drop across the switch thereby allowing for greater voltage accuracy to the circuit downstream, especially critical in low voltage applications. Other features include a control input for sequencing and an optional capacitor that allows the user to adjust the output slew rate. The MIC95410 is fully specified from –40 °C to +125 °C.