Marvell's 88MZ300 802.15.4/ZigBee microcontroller delivers high performance at ultra-low power and supports open standards including ZigBee 3.0 and Thread
Marvell announced its next-generation industry-leading 88MZ300 802.15.4/ZigBee wireless microcontroller system-on-chip (SoC), the newest member of Marvell's wireless microcontroller family of Internet of Things solutions. The high-performance, low-power, cost-effective SoC offers superior radio frequency (RF) performance that more than doubles the transmission range and reduces power consumption by 50 percent over Marvell's previous generation 88MZ100 SoC, while maintaining the least amount of external components due to the high integration in silicon. Together with its support for open standards, including the upcoming ZigBee 3.0 and Thread protocols, the 88MZ300 SoC, along with a ZigBee to Wi-Fi bridge reference design and an ecosystem of hardware manufacturers and system integration partners, it enables original equipment manufacturers (OEMs) to rapidly bring new, innovative IoT applications to market. The 88MZ300 SoC is sampling now.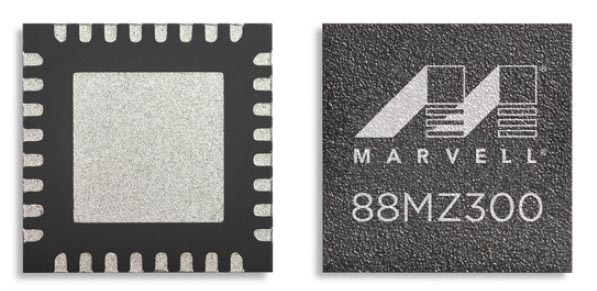 Building upon Marvell's successful 88MZ100 ZigBee wireless microcontroller, the 88MZ300 includes execute in place (XIP) that allows code execution directly from flash memory, reducing system cost while enabling scalable memory architecture for large code applications and future software upgrades. This benefits OEMs who are designing with the evolving protocol standards. It delivers ultra-low power consumption with 8.5 milliampere (mA) receiving (RX) current and 1 microampere (µA) standby current, works with an ultra-wide range of power supplies from 1.8 to 3.6 volts (V), allowing for a small form factor battery while providing extended battery life. Moreover, it offers industry-best co-existence performance with 2.4 Ghz Wi-Fi and Bluetooth (BT), significantly improves data link quality with reduced message loss and in turn enhances user experience. The 88MZ300 based IoT solution not only offers industry proven robust network stacks based on open standards, it also offers turnkey hardware designs that are compatible with Marvell's Smart Home Cloud Center platform and Kinoma software.
Key features include:
120 dBm link-budget with 13 dBm integrated PA and –107 dBm receiving sensitivity
Best-in-class Wi-Fi coexistence performance with 56 dBc WiFi ACI
26 mA transmitting current at 13 dBm, 8.5 mA receiving current and 1 µA standby with memory retention
On-chip 512 kB Flash and 164.5 kB SRAM
QFN-32 package measures at 5 mm by 5 mm
Typical applications/markets include:
Connected lighting
Smart appliances
Sensors
Home/building automation
Retailer electronic shelf labels (ESL)
Remote controllers
Industrial controls