The Elmos E521.31 IC provides an easy and variable RGB-LED system design with LIN bus interface. The component can drive 6 or more RGB-LEDs in multiplex mode, making it the ideal choice for cost-effective and dynamic light systems on the inside or outside of vehicles to display status information, such as the battery charge state on electric vehicles.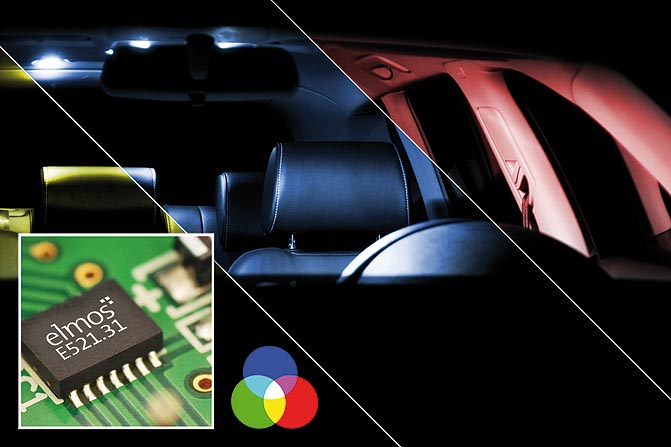 The component is equipped with a 16 bit microcontroller, voltage regulator and a LIN transceiver with integrated BSM (bus shunt method) auto addressing. The IC is also equipped with 32 to 54 kByte of flash memory and 1 kByte of RAM. The E521.31 features an integrated voltage regulator with an output rating of 5 V / 100 mA. LED drivers with a switching power of 50 mA each are integrated to control the LEDs. In addition, the E521.31 is also equipped with numerous ADC inputs, for example to measure current or voltage values from the internal or external temperature sensor. A flash mode (115 kBd) is available for fast flashing via the LIN interface.
The BSM technique is a robust method for addressing members of a LIN bus system and has proven itself in practice millions of times over. It has established itself among German OEMs in applications such as climate control system damper drives, and has been proven to be robust and reliable in over 10 years of operation across multiple platforms. All required development and diagnostics tools for this method are already in use in the field. Elmos established itself as a provider of fully integrated solutions using this method over many years. The method used in the IC exhibits very good fault tolerance such as «Loss of Ground» and can be used in «mixed» installations with standard LIN bus devices. This allows for system integration of bus devices which don't support the BSM method. Every bus device can be reached via the protocol at any time, even during addressing of the bus members. Broadcasts can be sent to all members at any time. Thanks to a simple software solution implemented in the slave, the master can perform an addressing plausibility check at any time. Thanks to this unique function, a diagnostics check can even be performed on the address assignments.
The component is available in the QFN32L5 housing.
The E521.31 was developed following the LIN 2.1 standards and the high demands of the automotive industry.