CSR plc announces the launch of Quatro 5500, an integrated system on chip (SOC) that enables a new generation of workgroup multifunction printers (MFPs) to seamlessly print documents from mobile devices, the cloud and traditional PCs and servers with high speed and excellent quality. The Quatro 5500 series, which extends CSR's line of printer SOCs, offers a low-cost alternative to traditional MFP solutions that combine a discrete CPU and a custom ASIC for printer-specific functions, and brings a significant reduction to the bill of material costs for MFP manufacturers.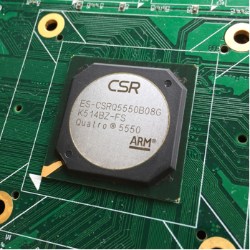 Each SOC in the series features dual ARM Cortex-A15 CPU cores, a companion Cortex-A7 core combined with a pair of CSR's own 4-datapath SIMD DSP cores for image processing. Running CSR's IPS Universal Print Interpreter software, the Quatro 5500 series delivers print processing speeds of over 70 pages per minute across all major print languages, as measured with the industry standard performance test file J11.ppt. By adding high speed interfaces including SuperSpeed USB 3.0, PCI Express and SATA, the Quatro 5500 series is able to efficiently meet the needs of a range of devices including monochrome laser printers, color laser printers, MFPs and high-speed document scanners.
As the workforce is becoming more mobile and digitized, documents are moving from the PC to phones and from tablets to the cloud. People are looking for seamless ways to print without access to a PC connected printer. The Quatro 5500 series allows manufacturers to meet those needs by combining a graphical LCD interface, GPU, and high performance processor cores, with CSR's wireless solutions and advanced printing software. This allows simple, secure, and convenient printing from any device. CSR is the only supplier in the market today providing a complete solution that includes an SOC, software and wireless connectivity.
To allow printer manufacturers to get to market quickly, CSR offers a quick and easy software development environment. The CSR Inferno™ modular firmware platform provides developers with a single firmware base for the full range of Quatro SOCs, enabling the customization of features to meet specific needs and efficiently build cost-effective controllers for a wide range of products. The Quatro programmable CPU, DSP and microcontroller cores also allow developers to implement their own unique features, image processing algorithms and mechanism controls using standard tools for faster software development.
Samples and development systems for the Quatro 5500 series are now available. For more information please contact your local CSR salesperson.