From the PC Amber used in warm dimming lamps to the Lime used in color-changing bulbs, the LUXEON 3535L Color Line delivers high quality color in a proven, reliable 3.5 × 3.5 mm package.
Lumileds launches the LUXEON 3535L Color Line, giving builders of emergency vehicle lights, signs, color tunable bulbs and architectural lamps access to high quality, single color mid power LEDs in Red, Red-Orange, Phosphor-Converted (PC) Amber, Lime, Green and Blue. "The tremendous success our customers have had with our high power color emitters convinced us that multiple markets could benefit from similar colors in the mid power performance range" said David Cosenza, Product Manager for the LUXEON 3535L Color Line.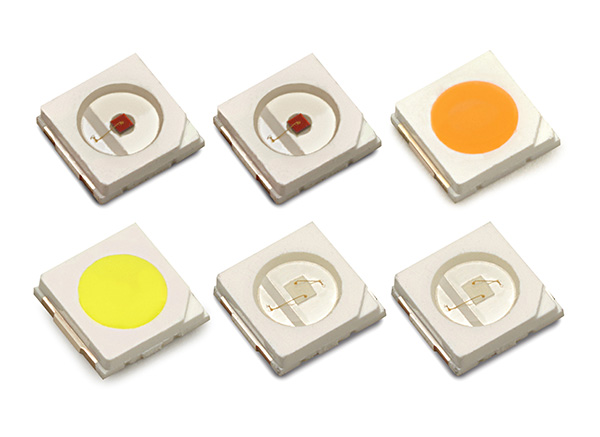 One product from the LUXEON 3535L Color Line is the LUXEON 3535L PC Amber LED, which can replace three 2200K LEDs in a warm dimming lamp while also delivering best-in-class flux and best-in-class hot/cold factor (flux at 85 °C relative to flux at 25 °C). The result is higher lm/W and lm/$ for creators of warm dimming bulbs.
Another standout product in the line is the LUXEON 3535L Lime LED, which makes color-changing bulbs, such as the Philips Hue, much more affordable. "When mixed with Red, Lime's unique color point enables much warmer White light to be created than Off-White plus Red combinations," said Cosenza. The LUXEON 3535L Lime LED features a typical flux of 56 lumens (100 mA, 25 °C) and a stellar efficacy of 190 lm/W.
The LUXEON 3535L Color Line demonstrates the increased flexibility of the Lumileds color family through smaller lumen offerings. With the LUXEON 3535L Colors, current Lumileds customers looking to broaden their product line can realize the perfect amount of color every time, no more, no less – even using the same optics as the LUXEON Rebel Color LEDs and LUXEON Z Color emitters to quickly take their new products to market.
The addition of the LUXEON 3535L Colors to the existing LUXEON 3535L White LEDs creates the most comprehensive mid power family on the market.