Vishay Intertechnology released a new series of thick film chip resistors that provides pulse-proof performance and advanced sulfur resistance for automotive, industrial, and medical applications.
The Vishay Draloric RCA-IF e3 series devices feature excellent anti-surge and pulse characteristics, and for high-sulfur environments offer a sulfur withstand ability in accordance to ASTM B809−95, tested at 90 °C for 1000 hours. The resistors are optimized for applications such as input circuits or MOSFET gate resistors susceptible to pulse loads while operating in a polluted atmosphere.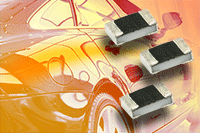 The RCA-IF e3 devices are available in seven case sizes ranging from 0402 to 2512 with power ratings from 0.063 W to 1.0 W. The resistors offer a resistance range from 1 Ω to 100 kΩ with tolerances of ± 5 % and ± 10 %, a TCR of ± 200 ppm/K, and a limiting element voltage range of 50 V to 500 V. The lead (Pb)-free devices feature pure tin plating, and are compliant to RoHS directive 2011/65/EU and halogen-free according to the JEDEC JS709A definition.
Device Specification Table:
Part number

Case size

Power rating
P70 (W)

Limiting element
voltage (V)

Insulation
voltage (V)

RCA0402-IF e3

0402

0.063

50

75

RCA0606-IF e3

0603

0.1

75

100

RCA0805-IF e3

0805

0.125

150

20

RCA1206-IF e3

1206

0.25

200

300

RCA1210-IF e3

1210

0.5

200

300

RCA2010-IF e3

2010

0.75

400

300

RCA2512-IF e3

2512

1.0

500

300
An AEC-Q200-qualified version, the RCA-IF AT e3, is also available.
Samples of the RCA-IF e3 and RCA-IF AT e3 are available now. Production quantities are also available now, with lead times of eight weeks for larger orders.