Toshiba Corporation's announced the launch of "TCB501HQ," a 4-channel power amplifier IC that detects output offset voltage that is a factor in speaker burnout. Mass production is scheduled to start in June 2016.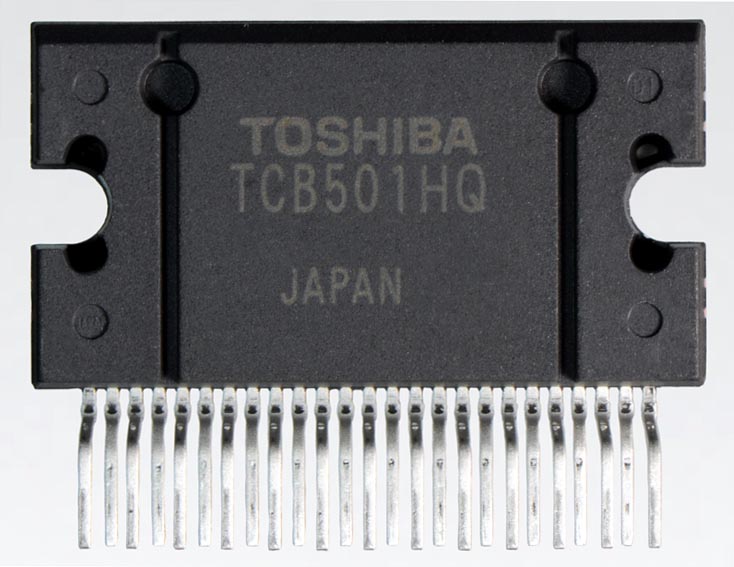 The new IC integrates a newly developed, full-time offset detection circuit. Conventional offset detection during sound reproduction is difficult. Toshiba's new IC detects output DC offset voltage caused by leakage from the input capacitor and other sources, even during sound reproduction, and prevents speaker burnout.
The new IC integrates a current-feedback system of the type adopted in high-end hi-fi audio. This prevents sound quality degradation at wide bandwidths and offers consistent sound quality.
Specifications
Part Number: TCB501HQ
Maximum Output Power: 49 W × 4 ch (VCC = 15.2 V, RL = 4 Ω, MAXPOWER)
Operating Supply Voltage Range: 6 V-18 V (4 Ω), 6 V-16 V (2 Ω)
Output Offset Voltage: 90 mV
Output Noise Voltage: 33 µV (BW = A-weight)
Embedded Functions and Features:

High output power and low distortion
Built-in mute and standby functions, offset detection, short circuit detection, and High-side switch driver.
6 V operation (engine idling reduction capability)
A range of protection circuits (thermal, overvoltage, output to VCC, output to GND, output to output protections)

Package: HZIP25-P-1.00F
Sample Price (with tax): 500 yen