Toshiba Corporation's Storage & Electronic Devices Solutions Company announced the launch of "TCB502HQ," a 4-channel power amplifier IC that detects output offset voltage, a factor in speaker burnout. Mass production starts today.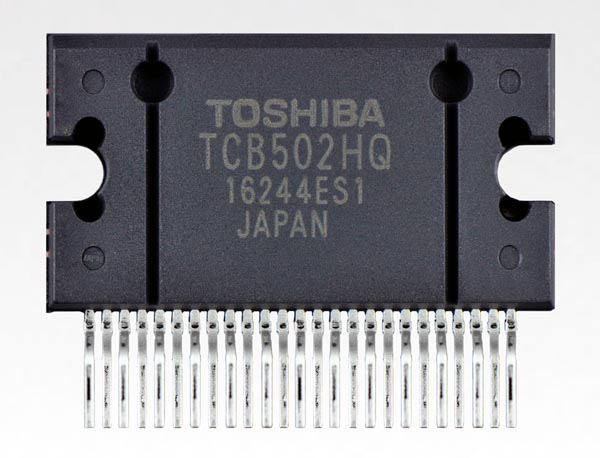 The new IC integrates a newly developed, full-time offset detection circuit that detects output offset voltage even during sound reproduction, preventing speaker burnout.
Manufacturers constantly seek to respond to consumer demand by refining the sound quality of car audio and the new IC supports this with integration of a current-feedback system like that found in high-end hi-fi audio. This prevents sound quality degradation at wide bandwidths and secures consistent sound quality.
Main Specifications
Maximum Output Power: 49 W×4ch (Vcc = 15.2 V, RL = 4 Ω, JEITA max)
Operating Supply Voltage: 6 V to 18 V
Output Offset Voltage: 70 mV
Output Noise Voltage: 33 µV (BW = A-weight)
Embedded Functions and Features:

High output and low distortion
Built-in mute and standby functions, offset detection, short circuit detection, and half short circuit detection
6 V operation (engine idling reduction capability)
A range of protection circuits (thermal, overvoltage, output to VCC, output to GND, output to output protections)

Package: HZIP25-P-1.00F
Sample Price (with tax): 500 yen