Designers can now achieve lower power, cost, and size of the RF front-end with the SC2200 dual-channel RF power amplifier linearizer (RFPAL) from Maxim Integrated Products.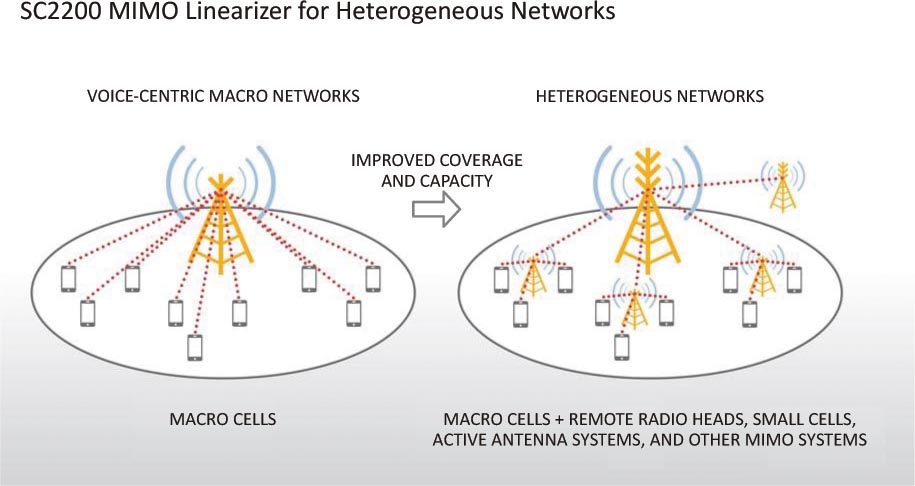 The linearizer enables power amplifiers to consume up to 70% less power compared to operation in back-off. In addition, it reduces the bill of materials (BOM) cost by up to 50%, and is up to 8x smaller than other digital pre-distortion (DPD) solutions on the market. The SC2200 application, which occupies less than 1 square inch of board space, substantially increases power amplifier efficiency while consuming less than 1.5 W when both paths are fully operational. This allows manufacturers to realize significant competitive advantages and helps operators meet their requirements for lowered operating and deployment costs.
With cellular data traffic increasing exponentially, the communications industry is migrating from voice-centric macro networks to heterogeneous networks with improved coverage and capacity. The SC2200 is a superior alternative to the inefficient method of operating power amplifiers in back-off, and is preferred over DPD since it requires no software or complex algorithm development. It features an integrated pre-amp and a single 1.8 V supply, and works optimally for a wide range of power amplifier architectures, technologies, and power levels. The linearizer is suitable for 2G, 3G, and 4G systems, including TD-LTE and FD-LTE. It is ideal for cellular infrastructure applications such as macro and small cell base stations, distributed antenna systems (DAS), active antenna systems (AAS), remote radio heads, and other multiple-input multiple-output (MIMO) systems.
Key Advantages
Excellent performance:
Meets stringent spectral emission and error vector magnitude (EVM) regulatory requirements

Lower power consumption:
Consumes up to 70% less power compared to a 37 dBm power amplifier operated in back-off

Reduced BOM cost:
Reduces BOM cost by up to 50% compared to a DPD system

Smaller size:
Offers 8x smaller size than other DPD solutions on the market
Availability and Pricing
Available in an 11 mm × 11 mm SAWN QFN package

Specified over the –40-degree Celsius to +100-degree Celsius temperature range

Evaluation kits are available: SC2200-EVK900, SC2200-EVK1900, SC2200-EVK2400

Pricing available upon request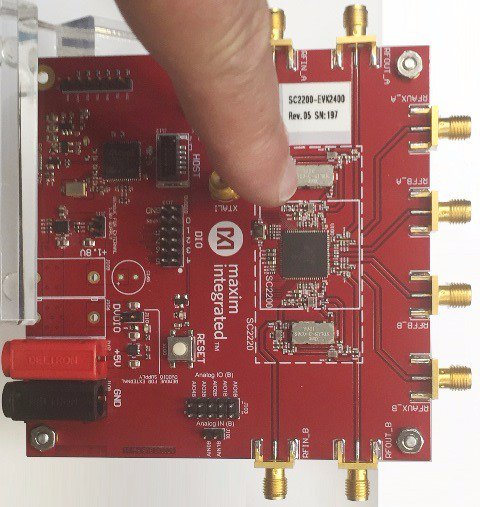 The SC2200-EVK2400 Evaluation Kit.