Automotive-grade, multiphase 12 A DC-DC buck converter offers high efficiency over a wide output range
Dialog Semiconductor announced the DA9210-A power management IC (PMIC). The DA9210-A is a multiphase, automotive grade, 12 A DC-DC buck converter that supplies the high current core rails of microprocessor devices, including those used in next generation infotainment systems taking center stage in today's connected cars.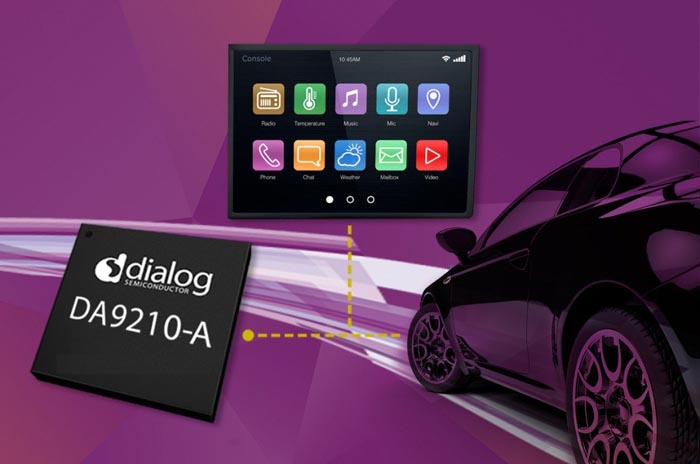 DA9210-A is designed to meet the stringent functional, quality and reliability demands of automakers and their customers. It is optimized for the supply of CPUs and GPUs, and can support load currents of up to 12 A in single-chip configuration and 24 A in dual parallel configuration. The PMIC's high efficiency over a wide output range makes it suitable for powering some of the newest and most demanding innovations of today's connected cars, from infotainment and navigation systems to full-scale integrated cockpits and future heads-up displays (HUDs).
Efficiency vs Output Current VOUT = 1.0 V.
The DA9210-A is the second generation of its predecessor, the DA9210 buck converter, which is successfully sold today into the high-volume smartphone market. The automotive-grade version of the converter has been well received by manufacturers, which can now take advantage of its proven capabilities to enable infotainment systems in connected vehicles.
Accepting input voltages from 2.8 to 5.5 VDC, the DA9210-A delivers an output voltage between 0.3 and 1.57 V, with ±2.5% output voltage accuracy. It features 3 MHz nominal switching frequency to minimize external component height and reduce solution footprint, adjustable soft start, and is designed to operate between –40 °C and +85 °C. The DA9210-A is fully AEC-Q100 grade 3 qualified, comes in a 42 WL-CSP package and is available now.