Latest IO-Link IC in Dialog's growing family of Industrial IoT products provides robust connectivity to the smallest, most cost-sensitive IO-Link Devices
Dialog Semiconductor announced the latest member of its IO-Link product family, the CCE4503. The addition of this new IO-Link IC both expands the company's reach into the Industrial IoT (IIoT) market and connects the smallest and most price-sensitive IO-Link Device sensors and actuators.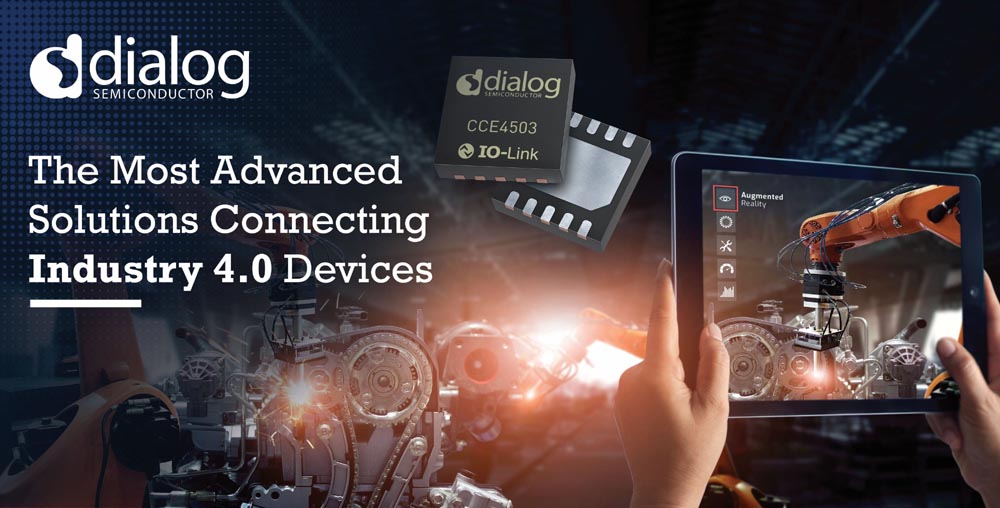 The CCE4503 is the first IO-Link IC to be launched by Dialog following its acquisition of Creative Chips in November 2019 and complements the company's well-established family of IO-Link Device and Master ICs. IO-Link is the first globally standardized, serial bi-directional point-to-point communication technology (IEC 61131-9) for an industrial automation network. It provides robust communications for the last meters between sensors, actuators and any fieldbus within a network.
The CCE4503 Block Diagram.
The CCE4503 is a highly robust and easy-to-use device-side IO-Link-compliant transceiver that combines IO-Link standard communications with advanced protection circuitry and low power dissipation, within a tiny DFN10 3 × 3 mm package. This makes it possible to add IO-Link connectivity to the most space-constricted industrial sensor and actuator devices. The design has also been rigorously optimized for cost, enabling a greater number of IO-Link devices to benefit from the IO-Link connectivity that provides deeper data access to the cloud.
The CCE4503, now currently sampling, is supported by a comprehensive set of development support tools, industry standard IO-Link software and a full-featured customer evaluation board.