Littelfuse, Inc. introduced an industry first: a new series of three unidirectional TVS diode arrays in space-saving 01005 flip chip packages (0.230 mm × 0.430 mm). Unidirectional protection is typically preferable to bidirectional protection, particularly on logic and data lines, which typically do not transit zero volts during standard operation.
The new SP3145 Series TVS Diode Arrays (SPA® Diodes), based on fast-acting, semiconductor-based technology, can withstand multiple electrostatic discharge (ESD) events without wear-out or degradation. Its low nominal capacitance (0.35 pF) makes this series ideal for interfaces running at high data rates approaching 5 GHz clock speeds.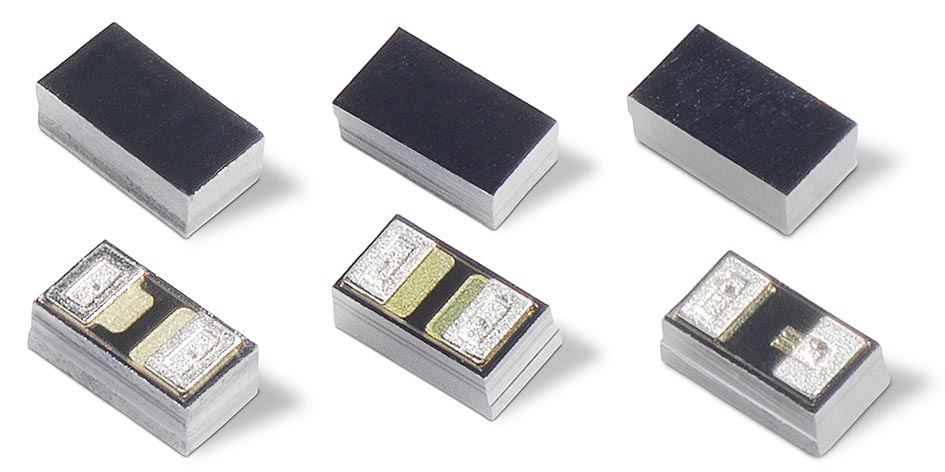 From left to right: SP1043, SP1044, SP3415.
The general purpose SP1043 (8 pF) and SP1044 (30 pF) Series TVS Diode Arrays employ proprietary silicon avalanche technology to protect the I/O ports of electronic equipment subject to destructive ESD. These robust diodes can safely absorb repetitive ESD strikes at ±12 kV (for SP1043) or ±30 kV (for SP1044) without performance degradation.
Typical applications for these TVS diode arrays include smartphones, digital cameras, wearable technology, tablet computers, and other portable devices.
The SP3415, SP1043, and SP1044 Series TVS Diode Arrays offer these key benefits:
Low capacitance unidirectional ESD protection in the industry's smallest footprint, to ensure data integrity while saving PCB space.

Provides ESD immunity beyond the maximum rating in the IEC61000-4-2 standard, to enable circuit designers more design margin and higher end-product reliability in the field.

Low dynamic resistance (3.5 Ω max for SP3145, 0.45 Ω max for SP1043/SP1044) supports the low clamping voltage needed to protect modern electronics filled with small geometry ICs.

Low standoff voltage (6 V max for SP1043/SP1044, 3.3 V max for SP3045) enables protection of up to 95 percent of all interfaces.
Availability
SP3415, SP1043, and SP1044 Series TVS Diode Arrays are available in tape and reel packaging in quantities of 15,000. Sample requests may be placed through authorized Littelfuse distributors worldwide.