The TClamp2472S expands Semtech's TransClamp® platform; enhances system robustness and guards circuits from destructive overvoltage transient threats
Semtech Corporation announced the TClamp2472S, a versatile two-line, low-capacitance transient protection array designed to safeguard xDSL interfaces from dangerous transient voltage threats. In addition to xDSL interfaces, it is also appropriate for safeguarding broad-based data links serving industrial and communications infrastructure.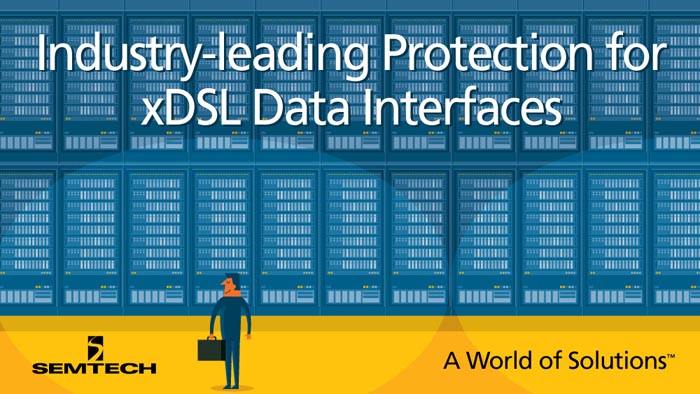 The TClamp2472S offers 20 A (8×20µs waveform) of surge immunity in an industry-standard SOT-23 package. The dual-line device delivers industry-leading transient protection while also presenting a minimal line-to-line capacitance of less than 3.5 pF. Robust (20 A, tp = 8/20 μs) surge rating for high-surge lightning protection helps xDSL equipment makers achieve compliance with the industry's stringent EMC immunity requirements.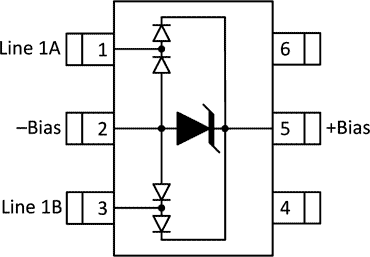 The TClamp2472S represents Semtech's latest addition to the highly-differentiated TransClamp® platform, which offers high-surge immunity with ultra-small junction capacitance. The high-surge, low capacitance advantages are enabled by Semtech's industry-leading process technology, which achieves extremely low clamping voltage with significant reductions in leakage current and capacitance.
Key Features of the TClamp2472S
Transient protection for high-speed data lines to: IEC 61000-4-2 (ESD) ±8 kV (contact); IEC 61000-4-4 (EFT) 40 A (5/50 ns); IEC 61000-4-5 (Lightning) 20 A (8/20 μs)
24 V working voltage protection
High surge capability: 20 A (tp = 8/20 μs)
Protects two I/O lines (1 differential pair)
Low capacitance (<3.5 pF line-to-line)
Industry Standard SOT-23 package
AEC-Q100 qualified device
Pb Free and RoHS/WEEE compliant
Pricing and Availability
The TClamp2472S (order code: TClamp2472S.TCT) is available immediately in production quantities and is priced at $0.28 each in 10,000-piece lots. Semtech offers comprehensive design assistance, including field- and factory-based support.