A new Digitally Enhanced Power Analog (DEPA) product for DC/DC power conversion is now available from Microchip Technology. The single-chip solution controls DC/DC converters and is capable of accepting a high voltage input (up to 42 V) while simultaneously regulating a wide output voltage range (300 mV to several hundred volts, depending on topology). The device is ideal for industrial and automotive environments and is particularly suited for battery charging and LED drive applications.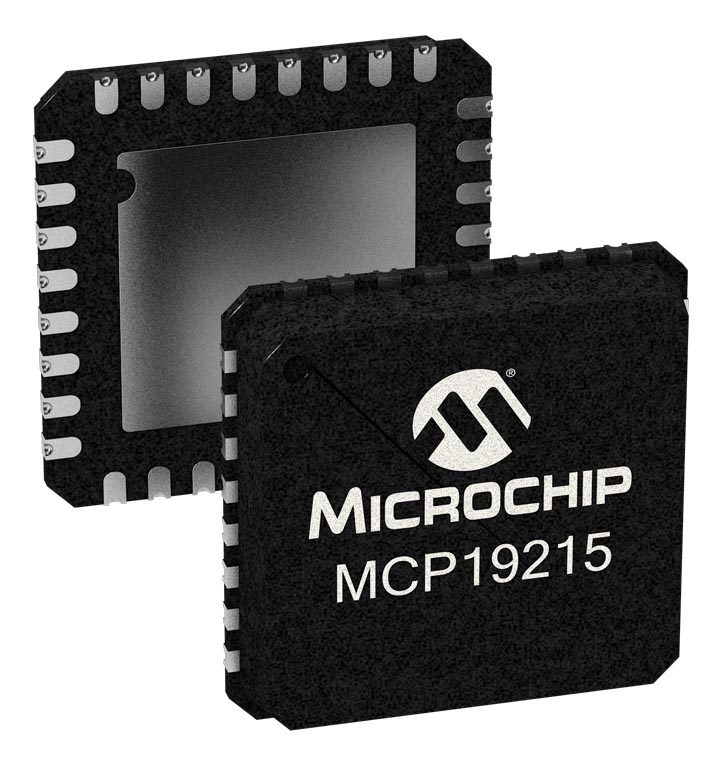 The MCP19215 is a dual controller, offering the ability to control two flyback, SEPIC, boost and/or Ćuk circuits simultaneously. The two circuits can even be different topologies. Alternatively, it can be configured to control one power train bidirectionally, maintaining voltage or current regulation in either direction through the power converter. This allows the circuit to dynamically switch between constant voltage and constant current operation, while also switching the direction of the power conversion. The benefits of this include the ability to use the same power supply to control both power in to and power out of a storage device (like a battery or a super-capacitor) while fuel gauging. In addition, it can switch automatically between sourcing and sinking power with a fast response time. This will maintain power on critical system voltage rails in a server or automation application, or conserve power in a renewable energy or automotive application.
All of the major performance parameters are completely configurable within the microcontroller core that is managing the analog control loops within the device. Current limit, operating frequency, fault responses, and over- and under-voltage lockouts can all be tailored to the application.
The MCP19215 also features low quiescent current sleep modes and the ability to survive load dump transient conditions, making it ideal for automotive applications. The device can be programmed to shut down other loads and enter sleep mode, allowing direct connection to the battery with minimal power consumption when the engine is not running.
Using the configurable internal registers allows for a programmable operating frequency, with a programmable phase shift, to coordinate the two power conversions. This reduces electromagnetic radiation in the application, preventing interference problems.
Development Support
The device is supported by Microchip's suite of programming and development tools including MPLAB® X Integrated Development Environment (IDE) and the MPLAB XC8 complier. The MCP19214 and MCP19215 are featured in the ADM00799 evaluation board, controlled with an accompanying graphical user interface, to provide flexible boost and SEPIC power conversion examples which can easily be adapted for application needs.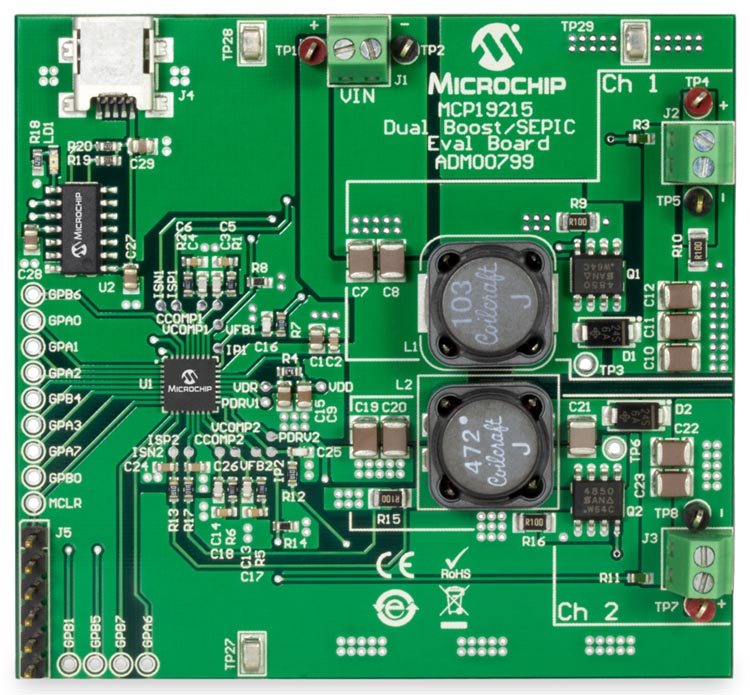 MCP19215 Dual Boost / SEPIC Eval Board (ADM00799).
Pricing and Availability
MCP19214 and MCP19215 are available today in a 5 × 5 QFN package starting at $3.17 in 10,000 unit quantities. For additional information, contact any Microchip sales representative or authorized worldwide distributor, or visit Microchip's website. To purchase products mentioned in this press release, go to the new, easier-to-navigate and mobile-optimized microchipDIRECT or contact one of Microchip's authorized distribution partners.