Monolithic device offers flexible protection against lightning strikes and power surges
STMicroelectronics has introduced a protection IC for telecom equipment that needs asymmetric behavior against lightning and other transients.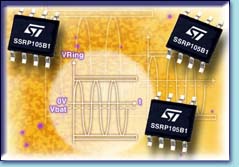 The SSRP105B1 dual asymmetric transient voltage suppressor helps telecom equipment withstand damage caused by lightning surges and power-cross situations, as specified in various recommendations and standards. In particular, it is able to withstand Ipp currents of 50A 5/310µs and 35A 10/1000µs, thus exceeding the levels required by ITU-T K20/21 and GR1089.
Using solid-state relays instead of the usual mechanical ring relays on line cards changes the topology and characteristics of the required protection circuitry. The SSRP105B1 has asymmetric protection characteristics tailored to these requirements.
Features include the ability to handle asymmetric voltages between line and ground of +105V and -180V. The IC can also withstand a symmetric voltage between line and line ranging from +180V to -180V. The holding current capabilities are an IH+ of 100mA, and IH- of 150mA.
Other applications include SLICs with integrated ring generators and general PBX circuitry.
The SSRP105B1 is available in a compact SO-8 package.