Supporting a Frequency Range of 5MHz to 10GHz, the New Devices Deliver Superior RF Performance in Tiny 2 mm × 2 mm Packages
Integrated Device Technology (IDT) introduced a new family of high-performance single-pole, double throw reflective (SPDTR) RF switches in compact 2 mm × 2 mm packages. The F2972 and F2976 operate from 5 MHz to 10 GHz, offering an industry-leading mix of low-insertion loss, high isolation, low distortion and high power handling.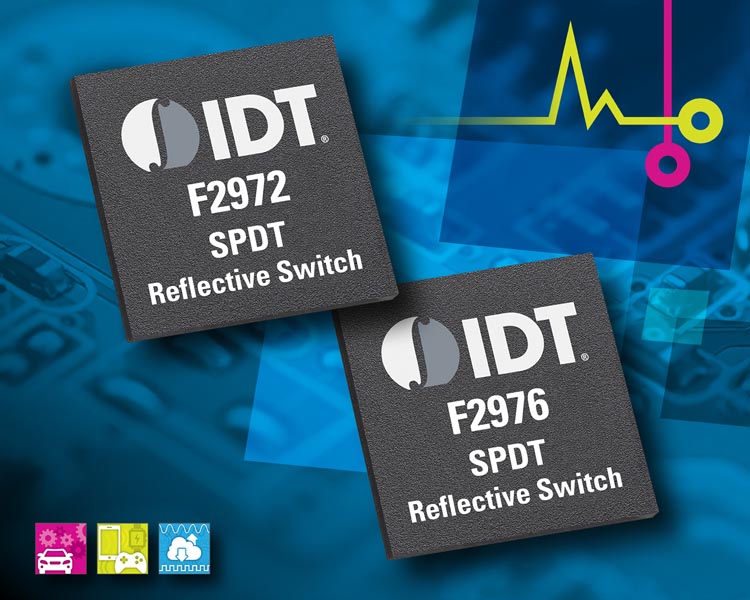 The IDT® devices are specified for use in either 50 or 75 ohm systems, offering versatility for a wide range of markets and applications, including, BTS wireless communications equipment, DOCSIS 3.1 CATV applications, drones, and general purpose consumer products.
The F2972 and F2976 have similar RF performance and pin outs, however each device has a unique feature pin. The F2972 offers an enable/disable pin for green, low-power consumption applications. The F2976 has a logic-select feature pin that allows the user to invert the switch control logic, enabling the control of multiple switches with a single control line where each switch needs to be in different states.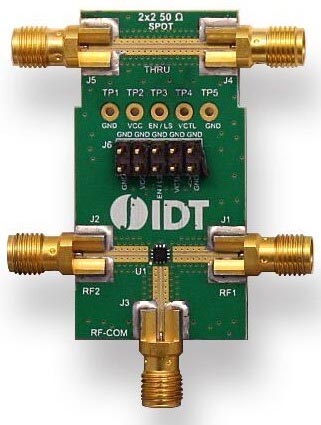 Evaluation Board for F2976 High Linearity
Broadband SP2T RF Switch.
The new IDT RF devices feature:
Low insertion loss of 0.36 dB and isolation of 42 dB at 2000 MHz
Extremely low distortion that allows these devices to be used in a wide range of applications

IIP2/IIP3: 120/77 dBm
H2/H3: –100/–120 dBc
CSO/CTB: >100/>100 dBc

(F2972) An enable/disable feature that conserves power consumption
(F2976) A logic select feature that delivers maximum control logic flexibility
Silicon-based semiconductor technology
Wide 3.3/5 V Vdd and 1.8/3.3 V control voltage ranges
Wide –40 to 105 °C temperature range with an excellent thermal characteristic