PIC32MZ DA MCUs Simplify Graphics Design for 24-Bit Color and Large Display Sizes
The 32-bit PIC32MZ DA microcontroller (MCU) family is the industry's first MCU with an integrated 2D Graphics Processing Unit (GPU) and up to 32 MB of integrated DDR2 memory. This combination from Microchip Technology Inc. gives customers the ability to increase their application's color resolution and display size (up to 12 inches) with easy-to-use MCU-based resources and tools including the MPLAB® Integrated Development Environment (IDE) and MPLAB Harmony Integrated Software Framework.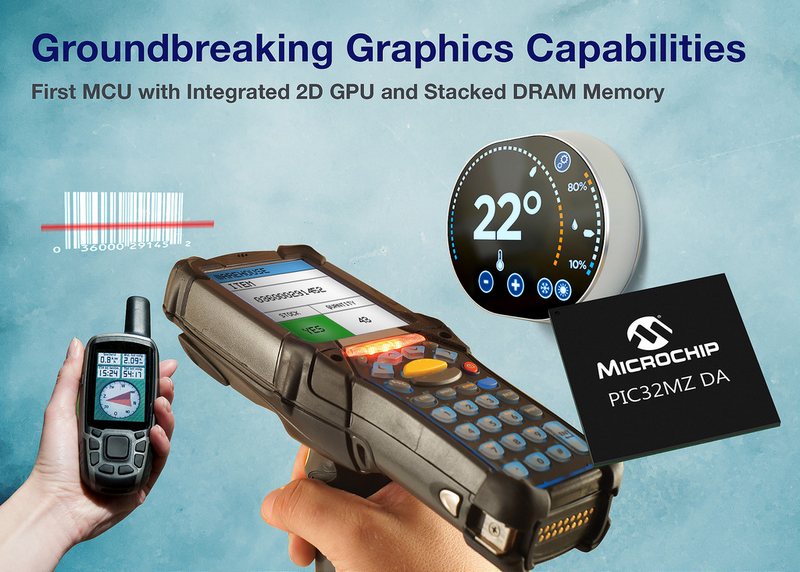 The PIC32MZ DA family bridges the graphics performance gap between MCUs and microprocessor units (MPUs) for customers who may wish to stay in the familiar design environment of an MCU. The devices provide MPU-like graphics capabilities with the seamless integration and programming model of Microchip's PIC32 and MPLAB IDE and Harmony software framework. These tools provide a visual graphics design environment, custom display driver creation, graphics libraries and an asset converter that can take a custom graphic and optimize it for their chosen display size.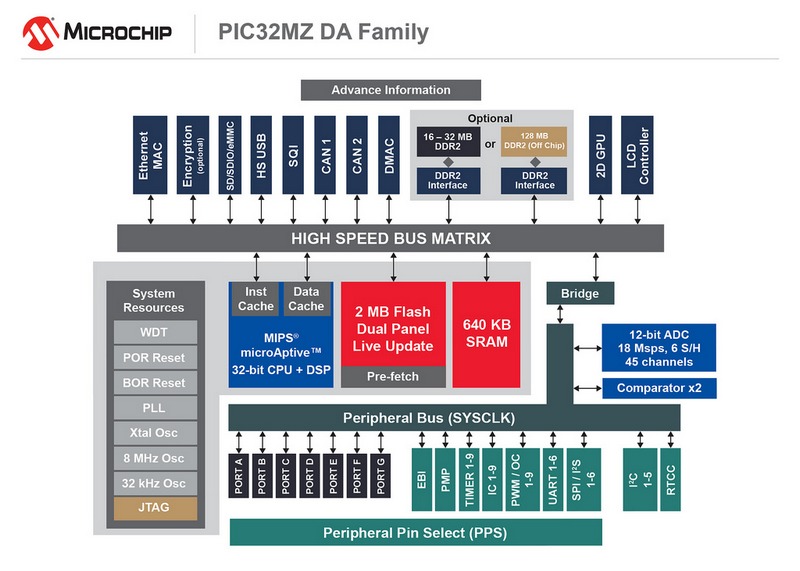 Features of the new devices include:
3-Layer Graphics Controller capable of driving 24-bit color SXGA

16-bit Parallel Interface supports a wide range of displays up to SXGA (1280x1024)
Multi-Layers composition for simplified image rendering
Enables advanced graphics features including:

Clipping
Rotation
Transparency

Supports multiple image and color space formats for maximum flexibility
Flexible timing configuration to ease the implementation of custom displays

High-performance 2D Graphics Processing Unit (GPU)

Accelerated 2-D Graphics Rendering
Accelerated Blit and Raster Operations
Several Alpha Blending modes
Transparency support
2D dithering
Image Scaling
Programmable operations including ROP2, ROP3, ROP4, Alpha Blending and Transparency
Filtering
Orientation

32MB integrated DDR2 DRAM or 128MB externally addressable

32MB capacity for rich, professional-looking graphics:

8-, 16-, or 24-bit color
Multiple layers
Multiple display buffers per layer
Image and Frame pre-load

Fewer board layers lowers system cost.
Code and data transfer to and from DRAM do not leave the package, making the system more secure.
Greatly reduced system complexity eliminates traditional memory sub-system design challenges.
Integration leads to smaller designs that result in feature-rich, attractive end products.
Fewer components to stock and manage drives savings in logistics.
Integration reduces board EMI issues.

Up to 2 MB Flash and 640 KB RAM
12-bit ADC Throughput at 18 Msps
Full-Featured Hardware Crypto Engine with Random Number Generator (RNG) for data encryption/decryption and authentication
The addition of DDR2 memory, a first for MCUs throughout the industry, enables 2x faster throughput and large graphics buffers and/or storage for increasingly complex communications protocol stacks and algorithms. The result is smooth, striking interfaces and fewer product variants in a crowded communications control market.
Development Support
The PIC32MZ DA family is supported by Microchip's MPLAB Harmony Integrated Software Framework, MPLAB X Integrated Development Environment (IDE), MPLAB XC32 Compiler for PIC32, MPLAB ICD 3 In-Circuit Debugger and MPLAB REAL ICE™ In-Circuit Emulation System.
Several additional tools are available including:
PIC32MZ Embedded Graphics with Stacked DRAM (DA) Starter Kit (DM320010) for $130

PIC32MZ Embedded Graphics with Stacked DRAM (DA) Starter Kit (Crypto) (DM320010-C) for $130

PIC32MZ Embedded Graphics with External DRAM (DA) Starter Kit (DM320008) for $140

PIC32MZ Embedded Graphics with External DRAM (DA) Starter Kit (Crypto) (DM320008-C) for $140
Pricing and Availability
Devices in the PIC32MZ DA family are offered in a variety of package options including a 169-ball BGA, a 176-pin LQFP and a 288-ball BGA for external DDR2 applications. Devices in the family are available today in volume production starting at $7.73 in 10,000 unit quantities. For additional information, contact any Microchip sales representative or authorized worldwide distributor. To purchase products mentioned in this press release, go to Microchip's easy-to-use online sales channel microchipDIRECT or contact one of Microchip's authorized distribution partners.