Teledyne Relays introduced yet another switching solution for military, aerospace and space applications - the Series J255 magnetic-latching, half-size crystal can relay.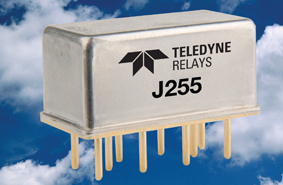 The dual-pole, dual-throw (DPDT) relay switches up to 2 amps at 28 Vdc and offers a 0.2dB insertion loss @1GHz. It is the company's smallest electromechanical package capable of switching high power

The J255 relay helps users consume less power by offering pulse operation on the coil. Relays typically require continuous coil power to remain in the last energized position, but the latching feature only requires the coil to receive a pulse to switch and remain in that position. The environmentally rugged design and latching feature makes the relay a good candidate for space applications, according to Antonio Gallegos, product-marketing engineer.

The hermetically sealed relay is qualified to MIL-PRF-39016/45. The magnetic latching mechanism makes the J255 less susceptible to transfer and/or chatter in high shock and high-vibration applications.