1 Hz to 2 MHz, ideal for ultra-low-power MCUs and AFEs
2 µA power, enables 10-year battery life
±5 ppm, enables accurate timekeeping and lowest power
Smallest oscillator at 1.2 mm2, reduces footprint more than 80%
SiTime Corporation, a wholly owned subsidiary of MegaChips Corporation, introduced the SiT1569 oscillator and SiT1576 Super-TCXO with expanded frequency range. These unique timing solutions, available in a tiny CSP (chip-scale package), enable coin-cell battery operated IoT sensors to run up to 10 years. By using SiTime's revolutionary TempFlat™ MEMS and mixed-signal technology, these devices deliver increased timekeeping accuracy and system power savings. The ultra-reliable, low-jitter SiT1576 and SiT1569 reference clocks are designed to drive microcontrollers (MCUs) and analog front end (AFE) modules in a range of portable and IoT applications such as railroad activity sensors in harsh environments, seismic sensor interface applications, and personal medical diagnostics.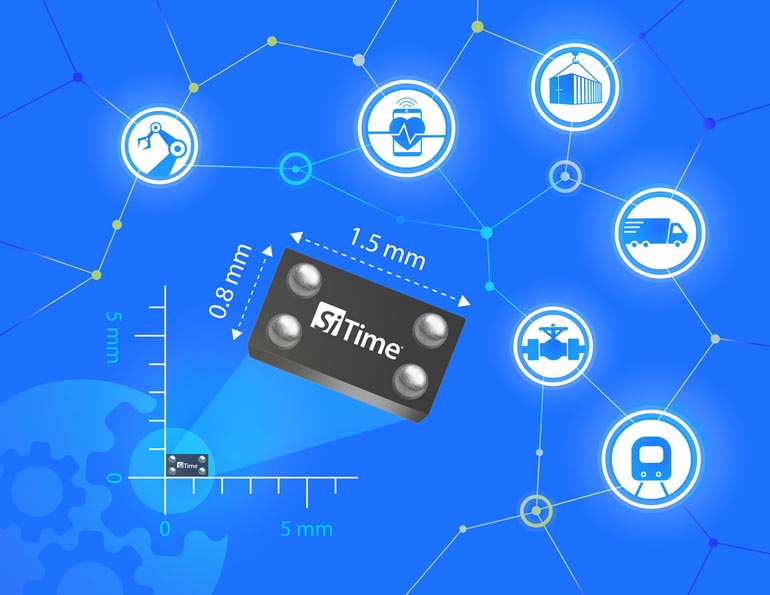 About the SiT1569 Oscillator and SiT1576 Super-TCXO
These MEMS timing solutions enable unprecedented size reduction and battery life by replacing bulky quartz oscillators that have limited frequency options, or internally-generated (MCU) power-hungry frequencies that lack accuracy and consume I/O pins.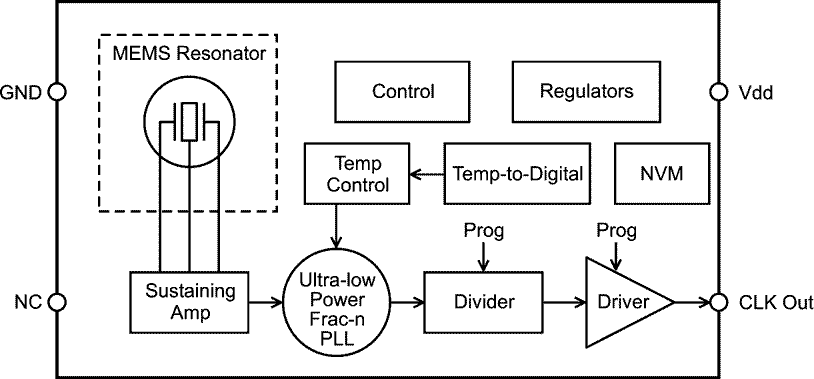 SiT1576 Block Diagram.
Key specifications:
Smallest package, CSP-4, up to 80% smaller than quartz solutions

1.5 mm × 0.8 mm (1.2 mm2 footprint)
0.60 mm height for lower profile

Power supply current

2.5 µA (100 kHz, SiT1569)
5.5 µA (100 kHz, SiT1576)

Frequency range (factory programmed for fast delivery)

1 Hz to 2 MHz (SiT1576)
1 Hz to 462 kHz (SiT1569)

All-inclusive frequency stability includes initial offset and variations over industrial temperature (–40 to +85 °C); a more accurate clock enables better timekeeping and extends battery life

±5 ppm (SiT1576)
±50 ppm (SiT1569)

Excellent jitter performance

2.2 ns RMS period jitter (100 kHz, SiT1576)
4.0 ns RMS period jitter (100 kHz, SiT1569)

Up to 65% faster startup time
Highest reliability and resilience; MEMS resonator mass is 500 to 1000 times smaller than quartz

30 times higher shock and vibration resistance
30 times higher reliability, at 1 billion hours MTBF
Samples of the SiT1576 Super-TCXO and SiT1569 oscillator are available now from SiTime for qualified customers. Production volume is planned for Q3 2017. Pricing is available upon request.