New 1200 Volt SiC Schottkys Offer High Efficiency and Excellent Performance at High Temperatures
SSDI » SSR15C120D1
SSDI is proud to release its latest silicon carbide (SiC) Schottky rectifiers, the SSR15C120D1 series. These 15 amp, 500 – 1200 volt devices replace the SSR05C100 series and offer higher output current, reverse voltage, and peak surge current (30 A) ratings than its predecessor. The SSR15C120 series is available in the TO-252 surface mount package, but are also available in hermetic packages.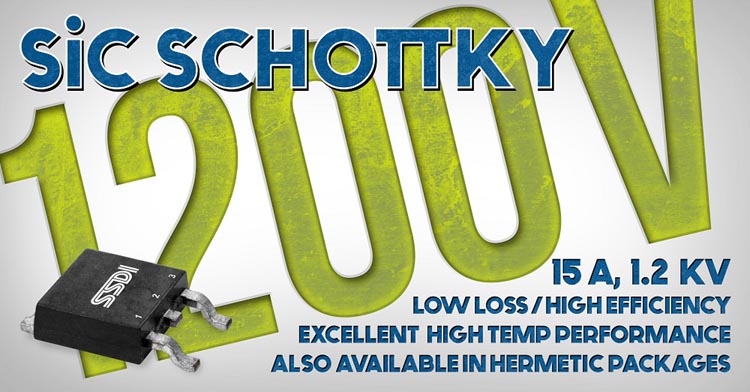 SSDI was an early proponent of SiC products for aerospace / defense applications and continues to supply these devices for high efficiency applications. One of the key advantages of SiC Schottky products is the excellent performance at high temperatures, which is demonstrated by SSR15C120D1's low forward voltage drop of 1.5 V and low reverse leakage of 100 µA at 175 °C. With no reverse / forward recovery or switching time change over temperature, these high efficiency components are ideal for use in bridge rectifiers, high voltage power supplies, switches and power controls.
Features
1200 V Silicon Carbide Schottky Rectifier
No Reverse Recovery
No Forward Recovery
No Switching Time Change Over Temperature
Hermetic Packages Available
Replaces SSR05C100 Series
TX, TXV, and S Level Screening Available - Based on MIL-PRF-19500, Screening Flows Available on Request
You may have to

register

before you can post comments and get full access to forum.
News on theme:
RadioLocman on the Social Web: