The UltraCMOS PE29102 is a high-speed FET driver with a switching speed up to 40 MHz. It is ideal for either half-bridge or full-bridge configurations and is designed to control the gates of external power devices, such as gallium nitride (GaN) FETs.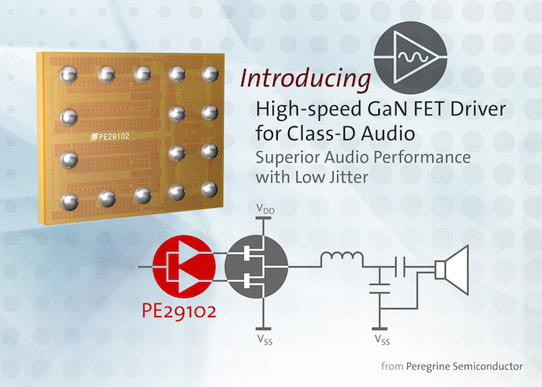 The PE29102 is optimized for matched dead time and offers best-in-class propagation delay to improve system bandwidth. High switching speeds result in smaller peripheral components and enable innovative designs for applications such as class-D audio and wireless charging. It has an output source current of 2 A and an output sink current of 4 A. Offered as a 2 × 1.6 mm flip-chip die, the PE29102 handles voltages up to 60 V and supports a gate drive up to 6 V.
Key Features:
High- and Low-side FET drivers
Dead-time control
Fast propagation delay, 9 ns
Tri-state enable mode
Sub-nanosecond rise and fall time
2 A/4 A peak source/sink current
Package – Flip chip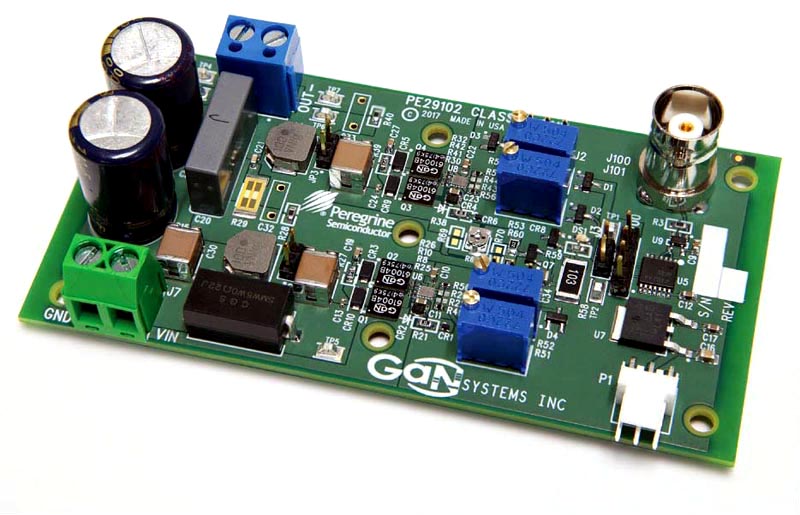 The GS61004B Evaluation Kit for PE29102.
To showcase the GaN-enabling capabilities of this driver, Peregrine developed evaluation kits with two leading GaN transistor providers – GaN Systems and EPC.
The GaN Systems GS61004B evaluation board allows the user to evaluate the PE29102 gate driver in a full-bridge configuration.

The EPC9086 is a half-bridge board that uses one PE29102 to drive the 30 V, 15 A EPC2111 EPC eGaN® half bridge.