Designed on ADI's XFCB-3TM SiGe process technology, new AD8352 diff amp drives 12- to 16-bit ADCs used in advanced wireless infrastructure applications.
Analog Devices Inc.
is announcing the industry's first differential amplifier (diff amp) to achieve the ultra low distortion levels needed to efficiently drive the high-speed analog-to-digital converters (ADCs) required by today's advanced wireless infrastructure systems. The latest addition to ADI's extensive portfolio of radio frequency (RF) components, the
AD8352
is designed to drive 12- to 16-bit ADCs at the highest practical intermediate frequencies (IF) used within next generation 3G and 4G cellular and broadband WiMAX wireless infrastructure equipment. The AD8352 is capable of maintaining exceptional performance when driving high-speed ADCs up to 380 MHz, far exceeding the 100 MHz achieved by competing diff amps.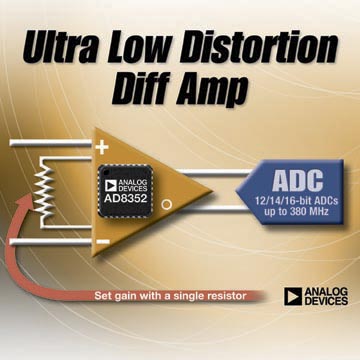 In today's demanding wireless applications, lowering the distortion level of the ADC driver is critical to improving system performance at higher frequencies, as this helps maintain the quality of the spurious free dynamic range (SFDR) and signal-to-noise-ratio (SNR) of the ADC. This, in turn, minimizes the number of intermediate frequencies within the radio design, thus reducing power consumption, cost, component count, and board area, and advances system-level performance in applications such as wireless base stations.
"ADI believes it is important to design complementary solutions that match our world-class data converters, ensuring the best system performance for the customer," said Peter Real, product line director, RF and Networking Components, Analog Devices. "For example, many third-generation base station receiver designs lower the system cost and improve performance by using a high-speed ADC and a single-stage high-IF down-conversion. Pairing the ultra low distortion AD8352 with 12- and 14-bit ADCs such as ADI's AD9445, AD9246 and AD9233, which all feature outstanding SFDR and SNR performance, means that base station designers suffer no degradation in signal processing performance."
Exceptional Performance and Low Power in a Small Package
The ultra low distortion of the AD8352 at higher operating frequencies (82-dBc HD3 at 180 MHz) is achieved by a proprietary internal cancellation scheme, and the use of XFCB-3™, ADI's specialized silicon germanium (SiGe) silicon-on-insulator (SOI) process technology. Along with ultra low distortion, the AD8352 delivers high linearity (41-dBm OIP3), draws only 37 mA of quiescent current, and is packaged in space saving 3 mm × 3 mm LFCSP.
Ease of Use, Flexibility
Unlike conventional differential amplifiers, the AD8352 saves considerable design time and adds flexibility by isolating the gain, allowing the user to select the desired gain with one external resistor. The gain isolation permits the user to change the gain independent of noise and input matching requirements. The AD8352 is ideally suited for use in single-ended to differential conversion, as a differential RF/IF gain block, and as an interface to differential devices such as SAW filters.
Pricing and Availability
The AD8352 diff amp is sampling now with production quantities available in January 2006. It is priced at $3.49 per unit in 1,000-piece quantities.