Ideal for applications that demand improved reliability and thermal management
Littelfuse introduced four new series of 1200 V silicon carbide (SiC) Schottky Diodes from its GEN2 product family, which was originally released in May 2017.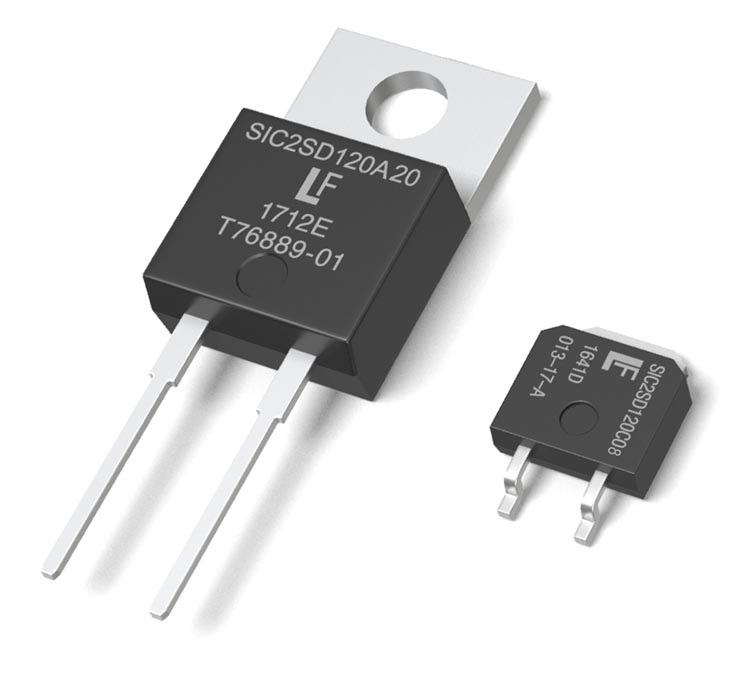 The LSIC2SD120A08 Series, LSIC2SD120A15 Series, and LSIC2SD120A20 Series offer current ratings of 8 A, 15 A ,20 A, respectively and are provided in the popular TO-220-2L package. Additionally, the LSIC2SD120C08 Series offers a current rating of 8 A in a TO-252-2L package. The merged p-n Schottky (MPS) device architecture of the GEN2 SiC Schottky Diodes enhances surge capability and reduces leakage current. Replacing standard silicon bipolar power diodes with the new GEN2 SiC Schottky Diodes allows circuit designers to reduce switching losses dramatically, accommodate large surge currents without thermal runaway, and operate at junction temperatures as high as 175 °C. This allows for substantial increases in power electronics system efficiency and robustness.
Typical applications for these new GEN2 SiC Schottky Diodes include:
Active power factor correction (PFC).
Buck or boost stages in DC-DC converters.
Free-wheeling diodes in inverter stages.
High-frequency output rectification.
The markets they can serve include industrial power supplies, solar energy, industrial motor drives, welding and plasma cutting, EV charging stations, inductive cooking fields and many others.
GEN2 SiC Schottky Diodes offer these key benefits:
Best-in-class capacitive stored charge and negligible reverse recovery ensures switching losses are extremely low and reduces stress on the opposing switch, making them suitable for high-frequency power switching.
Best-in-class forward voltage drop (VF) provides for low conduction losses.
The maximum junction temperature of 175 °C allows for a larger design margin and relaxed thermal management requirements.