Ricoh Electronic Devices launched buck DCDC converter R1800 with ultra-low quiescent current for energy harvester. As IoT market expands, the importance of technologies for harvesting ambient sources including light, vibration, and heat and converting them into electrical power is increasing in order to secure power supply for IoT devices.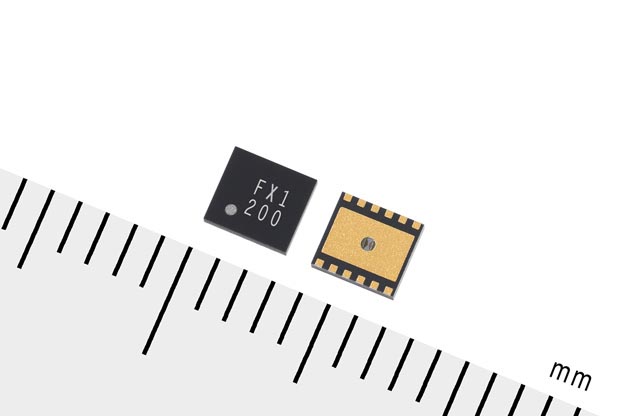 The R1800 is a power-storing buck DCDC converter for a photovoltaic and vibration energy harvester. It achieves a minimum starting power of 0.72 μW while having an ultra-low quiescent current of 144 nA (Typ.) at no load and normal temperature. It also provides a high efficiency of 90% at a light load with 10 μA output current.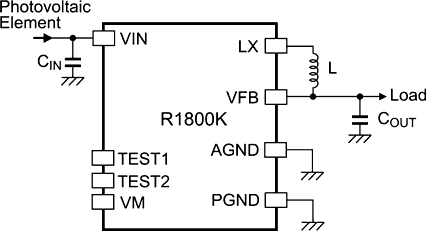 Typical Application.
The maximum power control, which maximally utilizes the harvester capability, optimizes a power supply from an energy harvester. The reverse current protection provides highly efficient power extraction with the lossless charge saved in the power storage element even if there is no power supply from the energy harvester.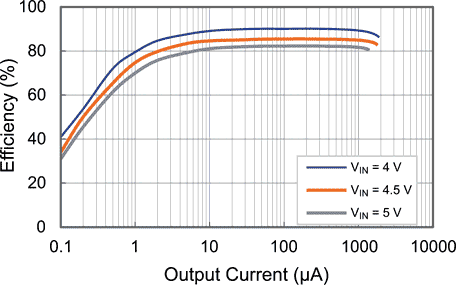 Efficiency vs. Output Current.
The R1800 is offered in a small DFN(PLP)2730-12 package that enables high-density mounting.
Features
Input Voltage Range (Max. Rating): 2.0 V to 5.5 V (6.5 V)
Operating Quiescent Current: Typ. 144 nA
Minimum Starting Power: 720 nW
Output Current: 1 mA
Output Voltage Range: 2.0 V to 4.5 V (0.1 V step)
Output Voltage Accuracy: ±3.0%
Functions: Maximum power control, Reverse current protection
Package: DFN(PLP)2730-12