Additional U-MOS IX-H devices offer lowest-in-class on-resistance
Toshiba Electronics Europe has started to ship two new 100 V additions to its low-voltage U-MOS IX-H N-channel power MOSFET series. The new devices are ideally suited to power supply applications in industrial equipment as well as motor control applications.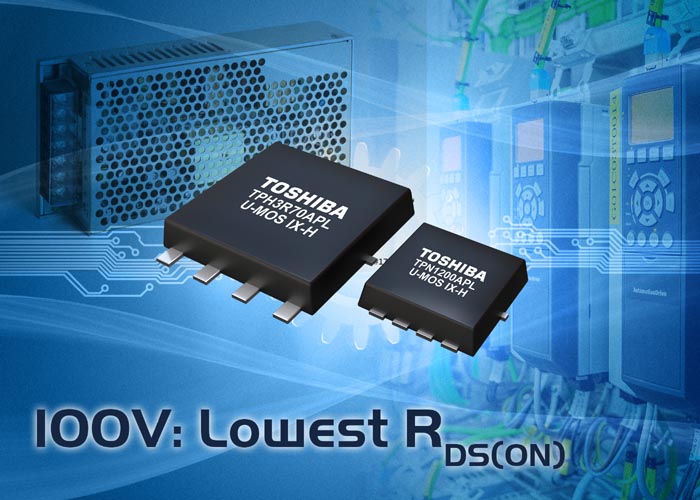 Fabricated with Toshiba's latest low-voltage U-MOS IX-H trench process, which optimizes the element structure, the TPH3R70APL and TPN1200APL deliver the industry's lowest-in-class on-resistance of 3.7 mΩ and 11.5 mΩ respectively. The devices exhibit low output charge (QOSS: 74/24 nC) and low gate switch charge (QSW: 21/7.5 nC) and allows for a 4.5 V logic level drive.
Compared with current devices that the U-MOS VIII-H process, the new devices have lower key figures of merit for MOSFETs for switching applications including RDS(ON) •QOSS, and RDS(ON)•QSW.
The TPH3R70APL is housed in a 5 mm × 6 mm SOP advance package and can handle drain currents (ID) up to 90 A while the TPN1200APL is in a 3 mm × 3 mm TSON advance package and handles ID levels up to 40 A.
Toshiba Electronics Europe will continue to expand its MOSFET portfolio in line with market trends in order to continue to improve power supply efficiency.