New AEC-Q101 Qualified Device With 5 mA Forward Current Comes in SOP-4 Mini-Flat Package
Vishay Intertechnology launched its first Automotive Grade phototransistor optocoupler, the VOMA617A. The new device combines a high current transfer ratio (CTR) with a low forward current of 5 mA in the compact SOP-4 mini-flat package, which saves 30% PCB space compared to the DIP-4 package.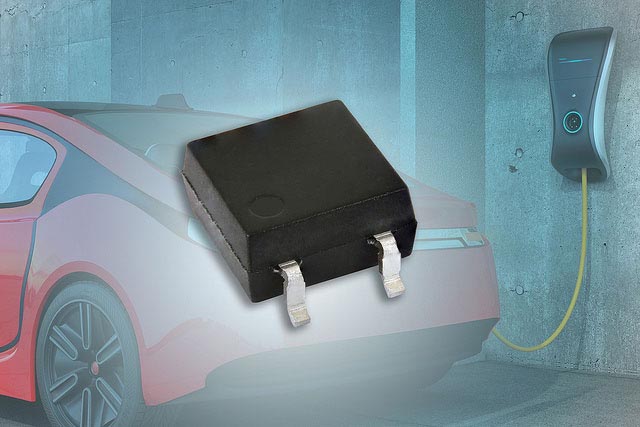 The VOMA617A is designed for galvanic and noise isolation, signal transmission, battery management, and system control in automotive applications, including hybrid and electric vehicles, as well as high reliability industrial applications. The device offers a CTR range from 50% to 600%.
The VOMA617A features a GaAlAs infrared emitting diode that is optically coupled to a silicon phototransistor. The SOP-4 package provides a 3750 V isolation voltage rating and creepage and clearance distance of ≥ 5 mm.
The VOMA617A is molded using an eco-friendly "green" compound, RoHS-compliant, and in accordance with WEEE 2002/96/EC. It is certified to UL, cUL, VDE, and CQC safety standards.
Samples and production quantities of the new Automotive Grade, AEC-Q101 qualified VOMA617A optocoupler are available now, with standard lead times of six to eight weeks.