Torex Semiconductor has launched the XC6135 series and XC6136 series, 2 voltage detector products which have achieved ultra-low quiescent currents and detect voltages among the smallest in the world.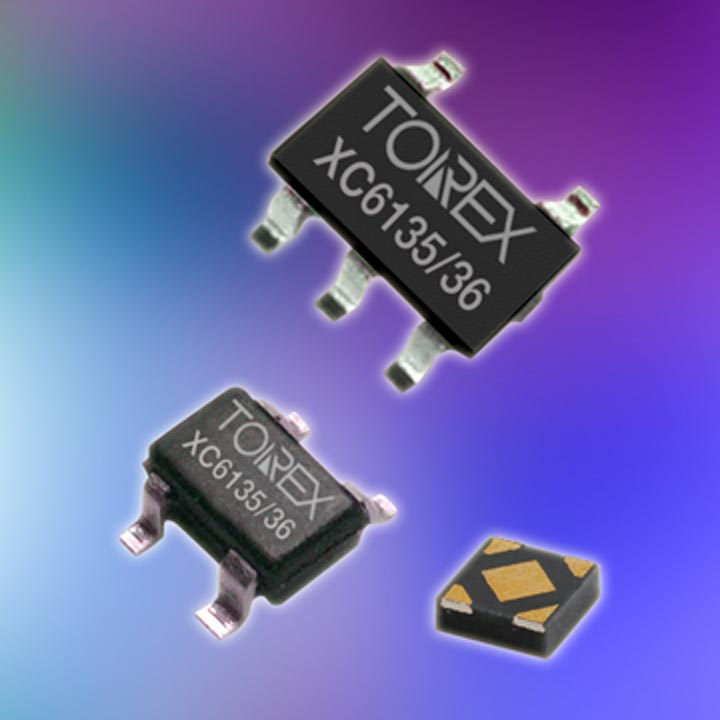 Their quiescent currents are roughly 1/10 those of conventional products (44 nA for the XC6135 series, and 88 nA for the XC6136 series), allowing them to extend the operating time of devices with small batteries such as IoT devices, wearable devices, and smart meters.
The XC6135 series supports a detect voltage of 0.5V. This capability to detect 0.5 V makes it ideal for monitoring voltages of 0.7 V/0.8 V, which are the core voltages of 16 nm/28 nm process SoCs and the power supply voltages of GNSS chips. It also has a sense terminal separation function allowing it to detect high withstand voltages as well.
The XC6136 series is provided with operational instability prevention functions, allowing it to achieve a maximum output voltage lift of 0.38 V even at conditions lower than the minimum operating voltage range in all temperature ranges. (CMOS products only).
The packages available for these products are general-purpose sizes SOT-25 and SSOT-24, or ultra-compact USPQ-4B05 packages (1.0 × 1.0 × h0.33 mm) which are thin enough to even be mounted in smart cards. This lineup allows customers to select the optimal package for their applications.
XC6135/XC6136 Series Features
Ultra-low quiescent currents among the smallest in the world (XC6135: 44 nA, XC6136: 88 nA).
Detect voltages which are among the smallest in the world (XC6135: supports 0.5 V).
With a sense terminal separation function allowing support for detection of high voltages as well (XC6135).
Detect temperature characteristics: ±50 ppm/°C.
Operational instability prevention functions (CMOS products), 0.38 V max.
Also compatible with USPQ-4B05 ultra-compact low-profile packages.