Diodes Incorporated announced the AP22652, AP22653, AP22652A and AP22653A single channel precision adjustable current-limited switches optimized for applications that require precision current limiting, or to provide up to 2.1 A of continuous load current during heavy loads/short circuits. These devices offer a programmable current-limit threshold between 125 mA and 2665 mA (typ) via an external resistor. Current limit accuracy ±10% can be achieved at high current-limit settings. The rise and fall times are controlled to minimize current surges during turn on/off.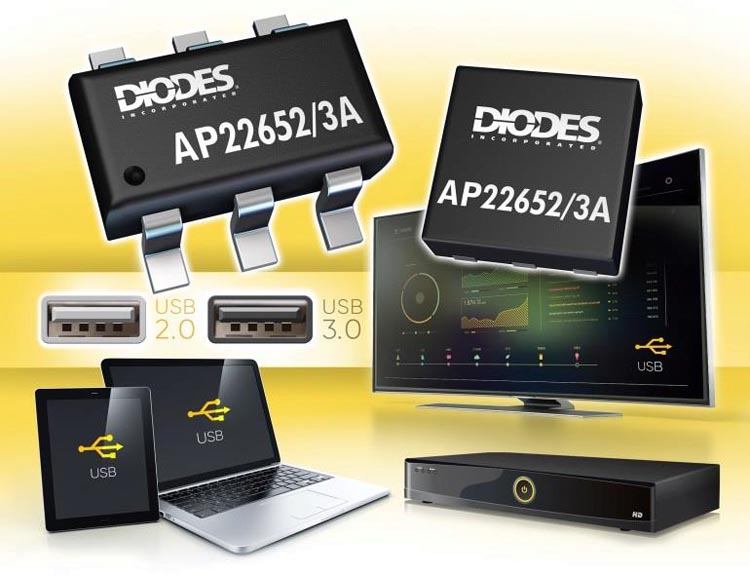 The devices have fast short-circuit response time for improved overall system robustness. They provide a complete protection solution for applications subject to heavy capacitive loads and the prospect of short circuit, offering reverse current blocking and limiting, over-current, over-temperature and short-circuit protection, as well as controlled rise time and under-voltage lockout functionality. A 6 ms deglitch capability on the open-drain Flag output prevents false over-current reporting and does not require any external components.
The AP22652 and AP22653 limit the output current to a safe level when the output current exceeds current-limit threshold.
The AP22652A and AP22653A provide latch-off function during over-current or reverse-voltage conditions.
All devices are available in SOT26 (Type A1) and W-DFN2020-6 (Type A1) packages.
Applications
Set-Top Boxes
LCD TVs & Monitors
Residential Gateways
Laptops, Desktops, Servers, e-Readers, Printers, Docking Stations, HUBs