Following in the footsteps of its previous released 1.5V Battery OTP MCUs, Holtek now takes pleasure in the announcement of its new Flash type devices. Forming the I/O device range is the HT68F03M/HT68F04M, and in the A/D range is the HT66F03M/HT66F04M. All devices include an internal DC-DC Converter which can operate with an input voltage down to 0.7V and which provide an output voltage of 3.0V that can supply power not only to the MCU device but also to external components.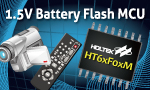 This device series has a Flash Program Memory capacity of 1K×14 ~ 2K×15, 64 or 96 bytes of SRAM Data Memory, 8 I/O pins, a pair of internal comparators etc. Excellent flexibility in oscillator functions is provided with five oscillator options: high frequency crystal, low frequency crystal (32kHz), external RC, internal low frequency RC (32kHz) and internal high frequency RC. This latter high frequency internal RC oscillator has fixed 4MHz, 8MHz and 12MHz frequencies with an accuracy of ±2%. The ability to dynamically switch between low and high speed operation allows the user to achieve the optimum performance/power ratio.
The HT68F0xM and HT66F0xM series devices all include Holtek's new multi-function timer modules that are capable of providing functions such as Input Capture, Compare Match Output, Timer/Event Counting, Single Pulse Generation, and PWM signal generation. The A/D type HT66F0xM also contains an internal 12-bit high speed ADC and internal voltage reference function. Supplied in 16-pin NSOP package types and with the special features of multi-function I/O, low power, low cost and high efficiency, this device series will see excellent use in the power applications area such as battery-powered portable and consumer products.
Features
MCU Features
Operating Voltage:

fSYS= 8MHz: 2.2V~5.5V
fSYS= 12MHz: 2.7V~5.5V
fSYS= 20MHz: 4.5V~5.5V

Up to 0.2us instruction cycle with 20MHz system clock at VDD=5V
Power down and wake-up functions to reduce power consumption
Five oscillators:
External High Speed Xtal
External 32.768kHz Xtal
External RC
Internal High Speed -- no ext. components
Internal 32kHz -- no ext. components
Multi-mode operation: NORMAL, SLOW, IDLE and SLEEP
Fully integrated internal 4MHz, 8MHz and 12MHz
All instructions executed in one or two instruction cycles
Table read instructions
63 powerful instructions
Up to 8 subroutine nesting levels
Bit manipulation instruction
Flash Program Memory: 1K×14 ~ 2K×15
RAM Data Memory: 64×8 ~ 96×8
EEPROM Memory: 64×8
Watchdog Timer function
Up to 8 bidirectional I/O lines
External interrupt line shared with I/O pin
Multiple Timer Module for time measure, input capture, compare match output, PWM output or single pulse output functions
Comparator function
Dual Time-Base functions for generation of fixed time interrupt signal
Low voltage reset function
Low voltage detect function
Multi-channel 12-bit resolution A/D converter
DC-DC converter Features
3.0V ± 2.5% output voltage
0.7V start-up voltage
Output current up to 100mA
High efficiency: 85% (typ.) at VOUT=3V
Holtek also fully supports these devices with its comprehensive suite of development tools. Collectively known as the HT-IDE3000 (Window-based) system, these tools include a hardware In-Circuit Emulator with full breakpoint and trace analysis functions etc. The e-Writer also provides a means of In-Circuit Programming to ensure rapid program updating and development. Additionally, Holtek also provides various application guides to ensure users have their designs up and running in the shortest time possible.