Toshiba Corporation expands the Toshiba TX03 series microcontroller (MCU) family with the launch of its newest TMPM375FSDMG device. Based on the ARM Cortex- M3 core, the TMPM375FSDMG MCU implements a next-generation vector engine that improves motor control, reduces component count and power consumption. The MCU is well suited for Brushless DC (BLDC) motor control applications that require high reliability, operational efficiencies, and precise variable speed control like motor control for home appliances (washing machines, air conditioners and refrigerators), motors, air conditioning equipments, pumps, vending machines and ATMs.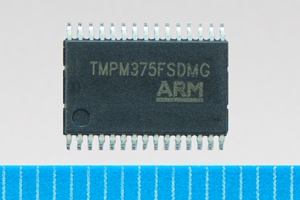 The TMPM375FSDMG lowers system cost for field-oriented control by reducing component count — the analog front end has been removed and 5V operation cancels the need for a 3V regulator. The combination of an industry-standard ARM Cortex-M3 CPU, with the specialized vector engine and high-speed timers, eliminates a costly DSP, further lowering cost-of-entry for field-oriented motor control. Lastly, the microcontroller supports a built-in amplifier for single-shunt current detection that can reduce the number of parts and promote cost reduction.
The TMPM375FSDMG's very small SSOP30 package (7.6 mm × 10 mm, including pins), and the reduced component count, make it well suited for space-critical applications. The device is capable of high-speed operation (25 ns PWM), and its extended temperature range of -40 to +105 degrees Celsius enables the MCU to be used in a wide range of industrial applications.
Samples will be available by the end of June 2013, with mass production scheduled to begin later in 2013.