Full Flight Technology uses the microelectromechanical device in its Velocitip Ballistic System, designed for archery equipment manufacturers, sportsmen and competitive archers.
The Velocitip Ballistic System includes an arrow tip, battery pack, docking station, USB cable and PC software. The system uses the Analog Devices' ADXL346 accelerometer to continuously measure arrow drag in flight to provide downrange performance data.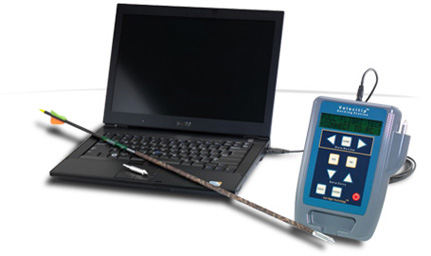 Unlike a ballistic chronograph, this system does not require down-range equipment to measure arrow performance at target impact. The archer threads the arrow tip to the arrow in a conventional manner and shoots at the target.
An arrow experiences forces over 1,000 g at launch and over 4,000 g at impact, for each shot. Each tip must be able to survive for a minimum of 100 shots.
Analog Devices claims that during product development, the ADXL346 was housed in an arrow tip and successfully tested for 100 cycles at 5,000 g. The MEMS accelerometer is housed in a 9-mm-diameter aluminum arrow tip and weighs less than 6.5 grams. Coin cell batteries power the arrow tip for a minimum of 100 shots.
The device provides 13-bit resolution measurement at up to ±16 g, and features an integrated memory-management system with a 32-level FIFO (first-in, first-out) buffer to store ballistics data.