Vishay Intertechnology announces a new AEC-Q101-qualified, 40 V n-channel TrenchFET power MOSFET. For automotive applications, the SQM200N04-1m1L is Vishay's first power MOSFET to feature 7-pin D2PAK packaging, which is engineered for low on-resistance and high current ratings.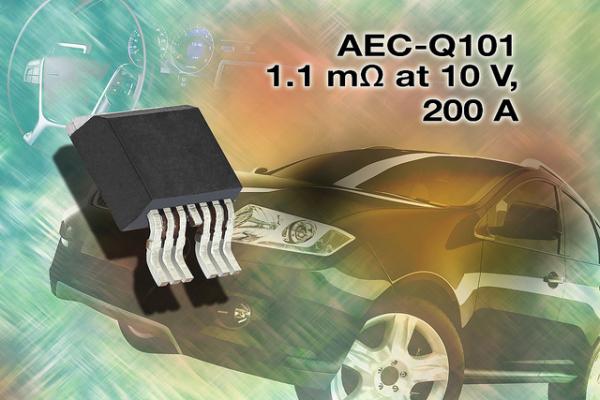 Product Benefits:
AEC-Q101 qualified
Low on-resistance of 1.1 mΩ max at 10 V and 1.3 mΩ max at 4.5 V

Low RDS(on) results in minimum conduction losses

Allows engineers to create robust designs

Continuous drain current of 200 A
Single pulse avalanche current of 100 A and energy of 500 mJ

Low thermal resistance of 0.4 ˚C/W (junction to case)
Wide operating temperature range of – 55 ˚C to + 175 ˚C
RoHS compliant and halogen free
100 % Rg and UIS tested.
Market Applications:
High-power automotive motor drive applications, including electric power steeringProduct Group: Vishay Siliconix, MOSFETs / December 2012
The Key Specifications:
Package: 7-pin D2PAK
VDS: 40 V
VGS: 20 V
ID: 200 A
RDS(ON):

1.1 mΩ at 10 V
1.3 mΩ at 4.5 V

Thermal resistance (junction to case): 0.4 ˚C/W
Single pulse avalanche current: 100 A
Single pulse avalanche energy: 500 mJ
Operating temperature range: – 55 ˚C to + 175 ˚C.
The Perspective:
For automotive applications, the SQM200N04-1m1L combines its 7-pin D2PAK packaging with highdensity n-channel TrenchFET Gen III technology. The result is ultra-low on-resistance down to 1.1 mΩ max at 10 V, which minimizes conduction losses and thus reduces the typical operating temperature of the device.
The SQM200N04-1m1L is manufactured using Vishay's automotive-specific processes and materials, including a package that allows reliable operation up to 200 A, creating a robust design for automotive applications.
Availability: Samples and production quantities of the new automotive power MOSFET are available now, with lead times of 14 to 16 weeks for large orders.