Blackhawk unveiled a new I²C bus analyzer product, dubbed the Blackhawk Scribe. The Scribe represents Blackhawk's first product introduction outside of its core JTAG emulation-based products. Combining an easy-to-use rich feature set with an affordable price, Scribe is well suited for both entry-level and complex I²C applications alike.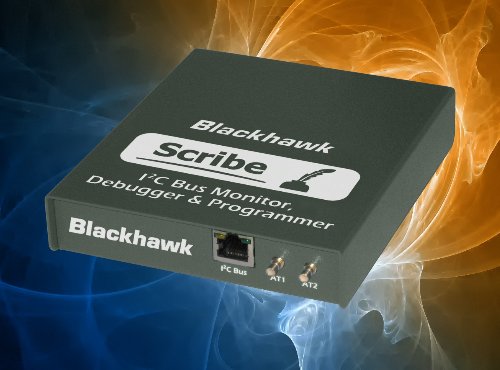 The Scribe is ideal for embedded software and firmware development, hardware debug, and system performance verification. Developers are able to monitor and log I²C bus traffic in real-time; all decoded I²C protocol data is displayed in an easily comprehended format. Hardware debugging features include exercising the I²C bus and communicating with its peripheral components which provides a convenient interface to "peek" and "poke" device registers while simultaneously watching traffic on the bus. In-System Programming capabilities are also included to facilitate programming and verification of I²Ccompatible EEPROM devices using the Scribe's intuitive interface to display and update memory contents.
The most prominent features of the Blackhawk Scribe are:
Support for I²C and SMBus
High-speed USB 2.0 interface
Support for Standard-mode, Fast-mode, and Fast-mode Plus using bit rates up to 5 Mbit/s
Support for High-speed mode monitoring up to 5 Mbit/s
Two general purpose I/O channels
Automatic detection of bus voltage and signal thresholds
Programmable bus voltage reference and software configurable pull-up resistors on the SDA and SCL lines
In-System Programming of popular serial EEPROMs
Robust and portable bus-powered USB device, no external power supply required
64-Bit Windows XP, Windows Vista, Windows 7, and Windows 8 software support
5.50 × 1.00 × 4.75 inches
Pricing
For the first 90 days, the Blackhawk Scribe is available at the special introductory price of $1,295, substantially lower than the regular list price of $1,600.