Infineon's TLE9835QX is the latest member of the second generation of embedded power ICs. It is a System-on-Chip (SOC) capable of driving a power PN MOSFET half-bridge. The half-bridge comprises a p-channel high-side MOSFET and an n-channel low-side MOSFET.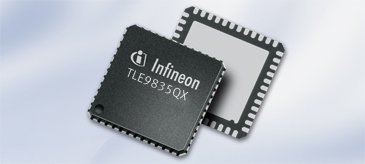 Combined with the PN MOSFET half-bridge, TLE9835QX is designed to address smart DC brush motor control applications such as HVAC blowers or fuel pumps. TLE9835QX paves the way for system solutions that use smart power-on-demand control to increase efficiency. The motor is PWM-controlled with a PWM signal that typically operates at 20kHz (outside of the audible range). TLE9835QX can be used to create mechatronic solutions that place the electronic at the motor. As a result, the external control signal (LIN or simple PWM) to the motor control does not produce any unacceptable emissions that might disturb other electronic components in the car.
TLE9835QX features intrinsic gate driver stages and optimized peripherals, which enable all functions for BDC uni-directional motor control to be realized (for example, variable duty cycle range and short circuit / overload protection).
Infineon has developed an application board that customers can use as a working demo. It is intended to directly drive motors with up to 300W of motor power. Designers can use the KEIL compiler and MiniWiggler flash program PC interface to reprogram TLE9835QX and all key motor control parameters.
Features
8051-based MCU @ 40MHz
64kB Flash memory
4kB EEPROM emulation
On-chip debug interface (two-wire)
LIN transceiver compatible with LIN standards 1.3, 2.0, 2.1 and SAE J2602
Voltage regulator supplying internal and external circuits (5V)
Protected PN channel MOSFET gate driver with push-pull stage
10-bit ADC converter (8 channels)
CAPCOM6 (PWM) for external motor control
Wide operating voltage
Applications
Fan/blower brush DC motor control applications
Pumps brush DC motor control applications