Exar Corporation introduced the XRP9710 and XRP9711 multi-output, synchronous step-down, programmable power modules that offer the industry's highest power density and lowest profile at 2.75 mm with 5 V - 22 V inputs. Both devices provide two fully integrated regulators with MOSFETs, inductors, and internal input and output capacitors in a compact 12×12×2.75 mm package that support loads up to 6 Amps each. The revolutionary XRP9711 also offers two controller outputs that are each capable of driving loads up to 30 Amps, making it the industry's first module to offer two fully integrated channels and two controller outputs. The XRP9710 and XRP9711 are complete system power solutions that enable telemetry, reconfiguration and fast time to market in a small footprint without sacrificing performance.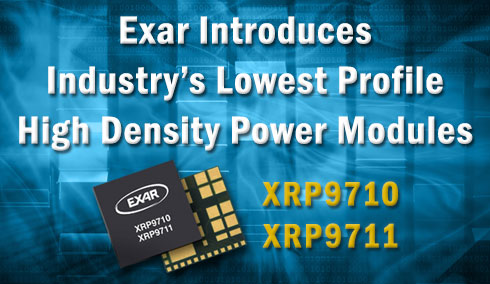 The XRP9710 and XRP9711 join Exar's PowerXR programmable power management family utilizing award winning digital power technology and design tools. These new power modules offer full control via a SMBus compliant I2C interface allowing for advanced local- and remote-reconfiguration, full performance monitoring and reporting, as well as fault handling. The output voltages can be programmed from 0.6 V up to 5.5 V without requiring any external components. The XRP9710 and XRP9711 come with the newly released PowerArchitect 5.1 design tool which enables customers to leverage the full capabilities of PowerXR technology.
About PowerXR Technology
Exar's Programmable Power Management family is marketed under the PowerXR brand. The PowerXR family of products combines programmable power conversion control and monitoring technology with high performance analog circuitry in the industry's leading portfolio of programmable power management system solutions. PowerXR enables system architects to create innovative products with advanced, intelligent, switching power supplies that significantly reduce wasted power and improve overall time to market compared to legacy analog power-supply regulators.
Exar's PowerArchitect development tools enable designers to intelligently configure the power supply's voltage setting and current thresholds, fault monitoring and response, soft start and active shutdown timing, channel sequencing, phase shift management and loop response amongst other features. Dynamic control and full system monitoring enable system architects and power designers alike to develop custom, proprietary system power designs that add value to their end applications.