Vishay Intertechnology Announces HML, New Miniature Axial-Leaded Thick Film Resistor
Vishay Intertechnology introduced a new miniature axial-leaded thick film resistor designed for hearing aids and high-frequency probe tips for testing in industrial applications. Encapsulated in a robust plastic housing, the Vishay Techno HML combines an ultra-compact 1.85 × 0.91 mm case size with high-temperature performance and a non-inductive design.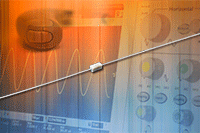 The HML series resistor released today offers a power rating of 0.063 W at +70 °C and a maximum working voltage of 50 V over a temperature range of -55 °C to +150 °C. The HML features a resistance range of 1 Ω to 22 MΩ, with tolerances down to ± 1% and temperature coefficients to ± 100 ppm/°C. Offering 100% pure tin solder coating on nickel lead wires, the RoHS-compliant device is suitable for soldering and welding.
Device Specification Table:
Part Number

Resistance Range
( Ω )

Tolerance ( % )

Temperature Coefficient
( ppm/°C )

HML

1 to 9.1

± 2, ± 5, ± 10

± 300

10 to 22 M

± 1, ± 2, ± 5, ± 10

± 100, ± 200, ± 300
RadioLocman on the Social Web: