New KSZ8061 Quiet-WIRE® Technology 10/100BASE-TX Ethernet Physical-Layer Transceiver Family Provides Reduced Line Emissions and Superior Receiver Immunity
Microchip Technology Inc. announced the KSZ8061 single-chip 10BASE-T/100BASE-TX automotive- and industrial-grade Ethernet physical-layer transceiver, which is designed for data communication over low-cost Unshielded Twisted Pair (UTP) cables. It is the first of a new family based on the patented and programmable Quiet-WIRE® enhanced EMC technology, providing reduced line emissions and superior receiver immunity performance. System reliability is also enhanced with Microchip's proven LinkMD+® advanced cable diagnostics, along with an embedded signal-quality indicator for the dynamic monitoring of link error margins.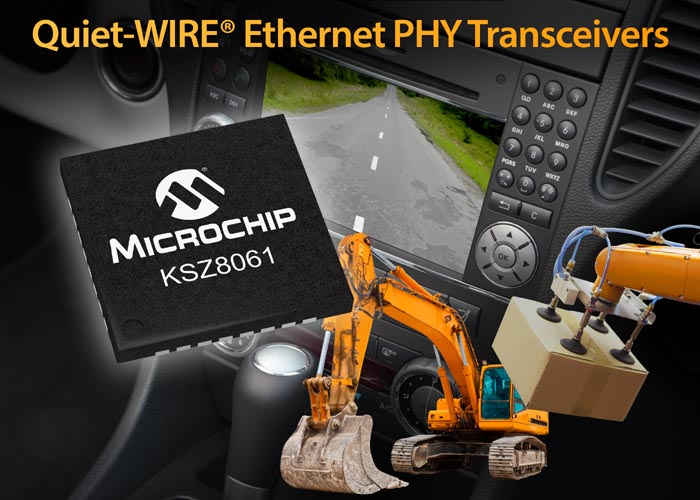 For energy-efficient applications, Microchip's integrated EtherGREEN™ technology includes a unique Ultra Deep Sleep mode with signal-detect wakeup, which lowers standby power consumption to the sub-microampere range.
With fast boot and linkup in less than 20 mS, the KSZ8061 is ideal for applications where startup time is critical, such as automotive rearview cameras. The KSZ8061 family is available with an extended temperature range of –40 to +105 degrees Celsius for harsh-environment applications, including industrial sensor networks, robotics, building automation and avionics. This Ethernet PHY transceiver family provides support for both the MII and RMII processor interfaces, for easy integration with numerous processors, MCUs and SoCs.
Development Support
Microchip also announced a new evaluation board, to enable functional and performance testing of the KSZ8061. The KSZ8061MNX Evaluation Board (part # KSZ8061MNX-EVAL) is available now for pre-orders, with delivery in January, for $115.00.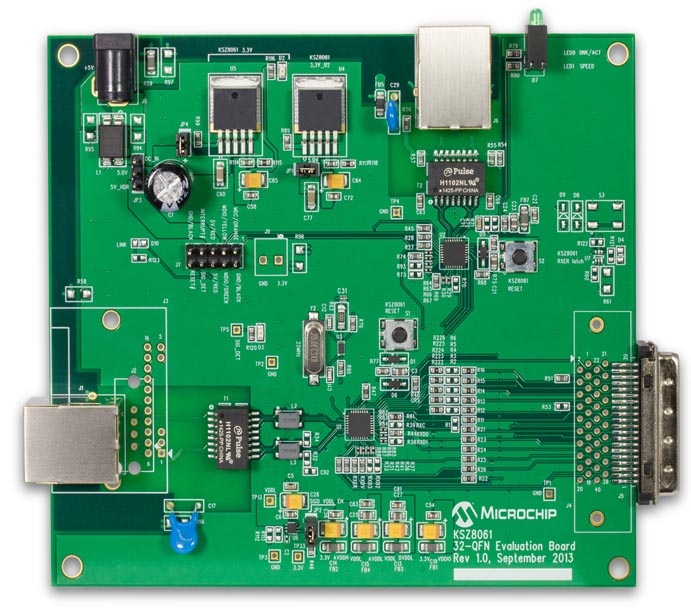 KSZ8061MNX Eval Board.
Pricing & Availability
The KSZ8061 is available now for sampling, at $1.16 each in 10,000-unit quantities for Industrial grade. Volume-production availability is expected next quarter. The compact packaging options include 32-pin, 5×5 mm and 48-pin, 6×6 mm QFN packages.