Following its arrival on the power semiconductor scene earlier this year, e-peas announces commercial availability of its first IC. The AEM10940 utilizes the company's unique proprietary energy management technology in order to maximize the efficiency with which electronic hardware draws energy from the ambient environment. This device, which is now in full scale production, is set to have major implications for the various power-frugal sensing applications currently emerging – including those covering all aspects of the Internet of Things (IoT), wearable technology, home automation, industrial monitoring and wireless geolocation, etc.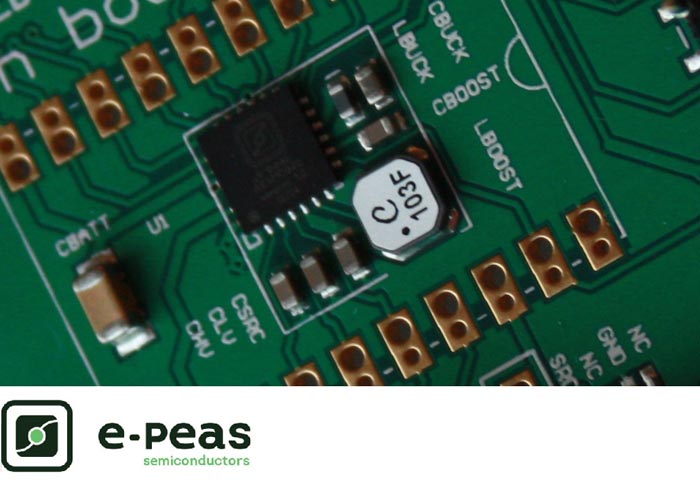 The highly integrated AEM10940 comprises an ultra-low power boost converter (exhibiting industry-leading 94% efficiency levels), along with voltage reference, energy management and LDO regulator elements. Thanks to its innovative cold-start circuitry, the device can be brought into active operation even when there is minimal energy left - an input voltage of just 380 mV and a mere 11 μW of power proving to be more than sufficient.
The IC harvests available input power up to 50 mW from an allocated energy source, such as a photovoltaic cell. Its boost converter (which has an input voltage range that spans from 100 mV to 2.5 V) exploits this for the rapid charging of any connected energy storage reserve, such as a Li-Ion battery, thin film battery, or conventional-super-capacitor. It enables the charge rate to be almost 3x that of alternative solutions currently on the market.
The 2 embedded LDO regulators deliver close to 98% current efficiency across a broad load range. Respectively, these have a low voltage and a high voltage supply associated with them. The low voltage supply (1.8 V), which can provide up to 10 mA load current, is typically used to drive the system's microcontroller. Meanwhile the high voltage supply, which is configurable between 2.2 V and 4.2 V, can sustain up to 80 mA of load current and will normally take care of tasks like powering the system's wireless transceiver (which could be based, for example, on either BLE, Zigbee, SigFox or LoRa).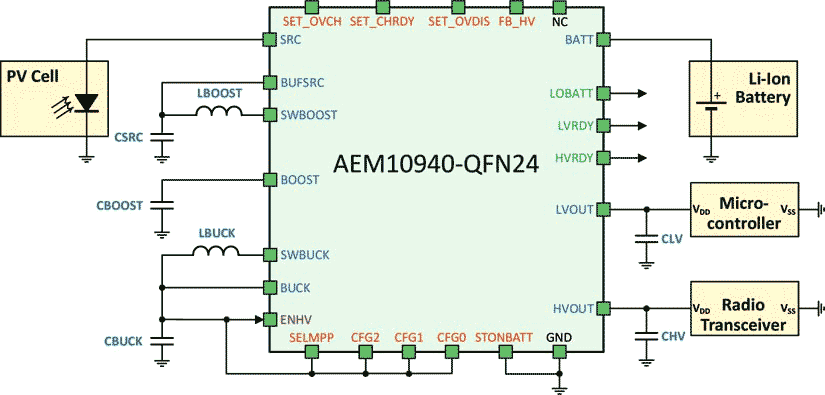 Lowest Part-count Application Circuit.
In addition to its superior efficiency and cold-start capabilities, what also really differentiates the AEM10940 is the wealth of functionality incorporated directly into the IC - with the dual-regulated output in particular underlining the high degree of integration. The resulting sub-system utilizes only limited footprint on a PCB and requires just a handful of external passive/discrete components. This means that in addition to costs, the engineering effort needed to undertake development is curbed considerably.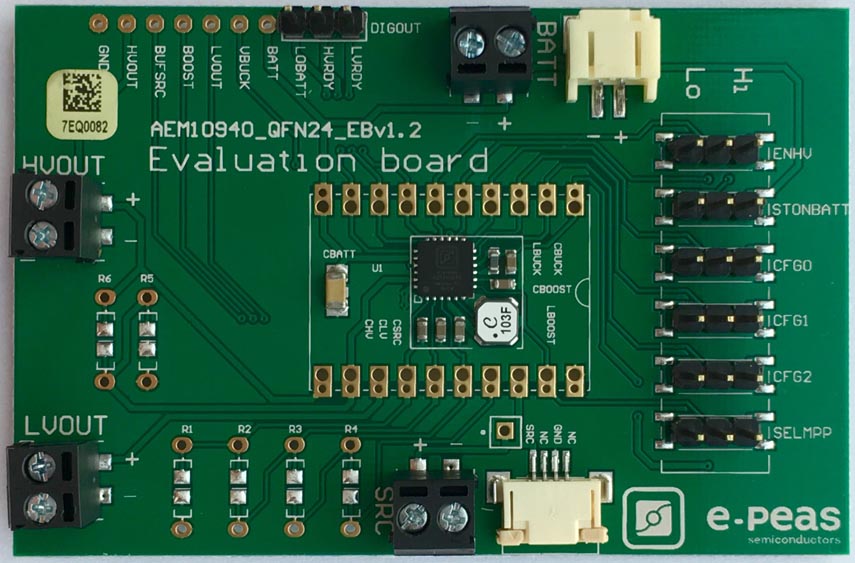 Evaluation Board for AEM10940.
"The AEM10940 will be pivotal in meeting the demands of a host of new systems where every mJ of energy is certain to be precious. The versatility of this IC means it will work with all types of DC energy harvesting apparatus and all types of energy storage technology," explains Thierry Keutgen, Product Marketing Director of e-peas. "Through its specification engineering teams will be able to dramatically lengthen their systems' battery lives. In many cases, it will even permit the elimination of the primary energy storage resource completely, thereby resulting not only in significant space savings being derived, but also avoiding the heavy expense of carrying out maintenance work in what are often inaccessible places."
The AEM10940 is supplied in a compact 24-pin QFN package.